Tens of thousands of people across Europe took to the streets Saturday in gay pride marches to pay tribute to the 49 people who were massacred in a gay nightclub in Orlando last weekend.
Around 130,000 people turned out for Vienna's "Rainbow Parade," which was the largest of the celebrations on Saturday. A minute's silence was held before the festivities got underway.
Leading the Vienna march was a black-clad group called "Victims of Hate Crimes - Marching for those who can't," holding a rope around a space where normally a float full of dancers would be.
The empty float represented "those lesbians, gays, bisexuals and transgender and inter-sex people who lost their lives in Orlando and who can't be marching with us," organizers said.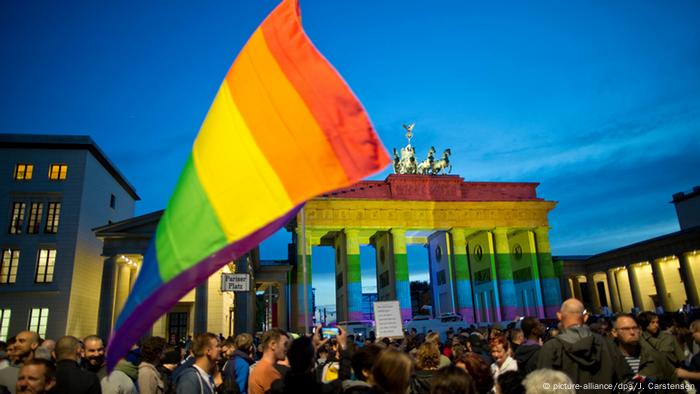 Germans came together at Berlin's Brandenburg gate in a show of solidarity with the victims of the Orlando massacre
Last weekend, lone gunman Omar Mateen murdered 49 people in Orlando's Pulse nightclub in the deadliest mass shooting in US history. Mateen was killed when police stormed the club. Officials say he pledged allegiance to the so-called Islamic State group.
Witnesses said Mateen had frequented Pulse in the past and used gay dating apps.
"The response must be more visibility and pride," said Lui Fidelsberger, co-head of the Vienna Homosexual Initiative, Austria's oldest lesbian and gay organization. "Despite the great sadness ... this year's Rainbow Parade will again celebrate loudly and stridently a big festival of diversity."
The German capital of Berlin also came together on Saturday in a sign of solidarity with the victims of the shooting. The Brandenburg Gate was lit in the colors of the rainbow in an appeal for tolerance and support for gays and lesbians worldwide.
Similar pride parades honoring the Orlando victims took place in cities across Europe, with larger parades planned for next weekend in the United States.
"This massacre has affected us all," said gay rights campaigner Paulo Corte Real at a parade in the Portuguese capital of Lisbon. "We are here to show our strength and to refuse all this hatred that we are still confronted with."
bw/sms (AP, AFP)