The 68th annual Emmy Award was noteworthy on several award fronts, while also seizing on the election season to poke fun at the current state of US politics. Defeated Republican presidential hopeful Jeb Bush played a cameo role driving an Uber car for hire, boasting to his passenger that he could earn $12 per hour, and asking what it felt like to be "nominated."
Awards for Game of Thrones, The People v. O.J. Simpson, and Julia Louis-Dreyfus highlighted this year's honors.
Game of Thrones won an Emmy for Best Drama series and in so doing became the most decorated fictional show in TV history, winning it's 38th Emmy and surpassing the former record of 37 held by Frasier. But while the US sitcom had run up its record-setting stash of awards over 11 seasons, ending in 2004, the current fantasy drama powered its way into record territory through just six seasons.
Game of Thrones, an HBO saga about noble families vying for control of the Iron Throne of fictitious kingdom Westeros, received 23 nominations this year.
Trial of the century
FX's The People v. O.J. Simpson - a 10-hour dramatization of the former American football star's 1995 double murder trial - went into the evening with 13 nominations, and hauled in five awards.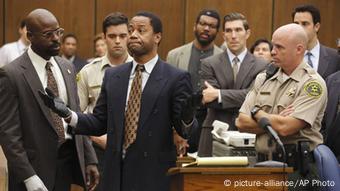 A key scene from The People v. O.J. Simpson drama series
Its victory for best miniseries was widely expected, while Sarah Paulson and Courtney B. Vance were rewarded in the lead acting categories for their acclaimed portrayals of sparring attorneys Marcia Clarke and Johnnie Cochran.
"Playing a real person, you want to get it right for them," said Paulson. "And the more I learned about Marcia Clark, who dedicated herself to righting an unconscionable wrong, I'm glad to be able to stand here today in front of everyone and tell you, I'm sorry," she said, apologizing for having initially misjudged the lawyer.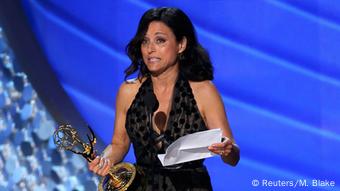 Julia Louis-Dreyfus chokes remembering her father
For the second year in a row Julia Louis-Dreyfus won two Emmys for Outstanding Lead Actress in a Comedy Series, for her role as the vainglorious US president Selina Meyer in Veep, as well as the best producer award for a comedy series.
In accepting the award, she apologized for what she called "the current political climate" in the US.
"I think that Veep has torn down the wall between comedy and politics," she said. "Our show started out as a political satire, but it now feels like a sobering documentary."
She then brought a gasp from the audience when she dedicated the award to her father who passed away on Friday.
"I'm so glad that he liked Veep," she said, her voice breaking, "because his opinion was the one that really mattered. Thank you."
bik/msh (AP, Reuters, AFP, dpa)