Le Pen's National Front party "has set itself the aim of destroying Europe," Gabriel said in an interview for Thursday's edition of the German daily "Frankfurter Allgemeine Zeitung."
"It has become a realistic danger," said Gabriel, a center-left Social Democrat.
If Le Pen does win the election, the idea of European unity would not disappear, Gabriel insisted. "But without France's engagement, Europe is certainly unimaginable in the long run," he went on. "First and foremost, the French would be the first to feel the effects of a so-called Frexit.
"Because the results of such uncertainty about Europe's future would be of course capital outflow, absent investments and mass unemployment," Gabriel said.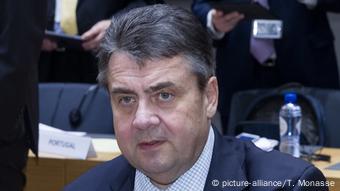 German Minister of Foreign Affairs Sigmar Gabriel
Poll volatility
Macron remains the frontrunner in the election race, with 39 percent of those consulted in the latest survey by pollsters Ipsos giving him a favorable opinion. In the poll, Le Pen is the favorite to win the first round in April with 35 percent of the vote.
In the poll released by the magazine "Le Point" on Wednesday, Macron was followed by Socialist candidate Benoit Hamon, with 38 percent, while former frontrunner Francois Fillon had fallen 18 percentage points to 25 percent, just behind Le Pen, at 26 percent.
Historical mud slinging
French presidential frontrunner Emmanuel Macron drew strong criticism on Wednesday after calling France's colonization of Algeria a "crime against humanity."
In a TV interview in Algiers being aired this week, the centrist said France's actions in Algeria, which achieved independence in 1962 after eight years of war, were "genuinely barbaric, and constitute a part of our past that we have to confront by apologizing."
Wallerand de Saint-Just, an official in Marine Le Pen's far-right National Front party, accused Macron of "shooting France in the back."
Systemic challenges
"The increasing spread between German bonds and French debt tells us that markets are beginning to price in a Le Pen win - and the markets are always late to the party, see Brexit, Trump and Renzi," Mark Blyth, a political economist at Brown University, told DW.
"The entry of a real left candidate would be good for ensuring left turnout, but splitting that with a centrist again likely strengthens Le Pen. It all comes down to turnout. If Fillon stays in and is damaged, she wins the first round. Then its all contingent on the French left turning out to vote for a crony version of Thatcher. Don't hold your breath," Blyth went on.
"The rise of the right is directly connected with the failures of the center-left to offer remedies to financialized capitalism," Wolfgang Streeck, a professor at the Max Planck Institute for the Study of Societies in Cologne, told DW in an interview.
"What we are seeing is the complete inability of the center-left to form coherent coalitions on the fragmented political map. The cosmopolitan, urban elites have lost touch and Le Pen in France, as others in Europe, is picking up the pieces," Streeck said.
Russia: threat or partner?
Gabriel also spoke on the need for the partnership with Russia. In the interview, he asked whether Russia was a partner, competitor or opponent.
"First and foremost, Russia is our neighbor, whether some want it or not," he said. "However, the partnership with Russia should not be naïve."
jbh/kl (AFP, dpa)