Günther Beckstein, 63, received 122 of 178 votes in the Bavarian state parliament, which is dominated by his Christian Social Union (CSU). He built a reputation as a law-and-order man during his years as Bavaria's powerful, hard-line interior minister. As premier of Germany's largest and wealthiest state, he'll have to ensure that his own party toes the line if it wants to maintain its popularity.
The CSU found itself in turmoil earlier this year. Edmund Stoiber, the party's charismatic premier and party chief, lost the confidence of his party after mishandling allegations that one of his aids had snooped into the personal life of a fellow CSU politician. Once he announced his plans to step down in September, an unusually public power struggle broke out among those who wanted to succeed him as party chair. Bavarian Economics Minister Erwin Huber was eventually chosen.
It's normal to have some disorder when a "dominating personality" like Stoiber leaves the political scene, Beckstein said. But now party members need to form a "tidy combat order" and prepare a united front for next year's elections, Beckstein told the weekly newspaper Welt am Sonntag.

Beckstein consistently scores highest in opinion polls and will play an important role in the 2008 state elections. Observers have said he's likely to carry on Stoiber's agenda.
"I will continue with the policies that have made Bavaria the best," he told a CSU conference on Saturday.

High-profile post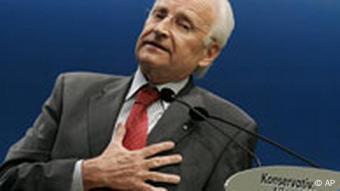 Stoiber is out
The Bavarian premier is a symbolic successor to the former kings of Bavaria. While the royal perks are limited to using the region's palaces for state business, the premier does have a high profile in Europe because of the state's economic might.
The CSU has been Bavaria's governing -- or as some might say "ruling" -- party for the last half century. The party has controlled Bavaria's premiership since 1957 and during most of that time, has also had the state parliament in its hands with an absolute majority.

The CSU is the Christian Democratic Union's (CDU) sister party. Under a power-sharing agreement, Merkel's CDU does not seek office in Bavaria and the CSU does not venture out of Bavaria. Chancellor Angela Merkel relies on the Bavarian CSU for votes in the federal parliament.
A little different
Beckstein has vocal critics
Beckstein will likely focus his energy on running Bavaria and leave the politicking in Berlin to Huber. Beckstein has been part of Bavarian politics for such a long time that he was a natural choice for the job, said Werner Patzelt, a political science professor in Dresden who studies German political parties.
Beckstein does not fit the typical profile of a CSU politician. He is a Protestant in a party that has traditionally been dominated by Catholics. He hails from the northern Bavarian region of Franconia, while his predecessors have come from the south.
Thirty years ago, Beckstein's background might have made it difficult to advance within the CSU. But those issues are irrelevant today, said Gerhard Hirscher, a political scientist with the Hanns Seidel Foundation, a Munich research institution supported by the CSU.

"We're in a time of competence politics," Hirscher said.

Impeccable conservative credentials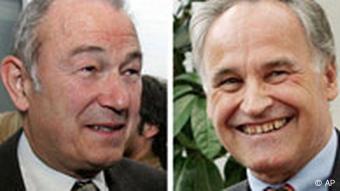 Beckstein (left) and Huber
Unlike many of his compatriots, Beckstein has managed to stay clear of personal and professional scandals. He is close to his wife Marga, considering her an important advisor. The couple has three children.

Beckstein's law-and-order credentials will be important in the upcoming elections, Patzelt predicts, since the views are popular in Bavaria.
He's seen as one of the more outspokenly conservative members of the CSU. His comments frequently draw criticism from opposition parties, immigrant rights groups and privacy advocates.
Beckstein was criticized by Muslims and Social Democrats in September when he suggested that law enforcement should keep tabs on Germans who convert to Islam. The remarks came after two German converts to Islam were arrested for allegedly taking part in a plot to bomb United States military installations and other targets in Germany.

When "security forces learn of a conversion, they should establish whether it involves a liberal and humane form of Islam or an Islamist one," Beckstein told a German newspaper.

Earlier, Beckstein had said Social Democrats, who make up the liberal half of Merkel's ruling Grand Coalition, would share the blame for future terrorist attacks in Germany. The Social Democratic Party has opposed conservatives' plans to drastically widen security authorities' access to personal data.

Despite his reputation as a hardliner, Beckstein is soft spoken in person and has the reputation of being a good boss, Hirscher said.

"His track record in his political field is really very good." Hirscher said.
If it's not broken...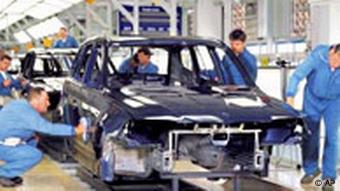 Bavaria's economy is going strong
Bavaria is home to corporate giants like BMW and Siemens. In contrast to other German states, the economy there has performed well for several years and it's unlikely that Beckstein will decide on a drastic change in course. He'll likely carry forward plans Stoiber put in place, experts say.

While the ruckus over Stoiber's departure caused a dip in the party's popularity earlier this year, the latest polls show that the party has between 53 and 58 percent support among Bavarians. The CSU will aim to maintain its majority in the 2008 state elections. After that, Beckstein's real test will be to make sure the CSU has a good showing in the next round of European and national elections, currently planned for 2009.