As the German president, Horst Koehler travelled the world. On state visits, people saw a president that was interested in different cultures and societies. But Koehler was always fond of one continent in particular: Africa. He did not overlook Africa's ills and when he described them, he did not mince his words either.
But with Koehler having left office, there is a looming danger that Africa will fall back to the bottom of the political agenda in Germany again. New German presidents usually do not continue projects started by their predecessors, because they want to set their own political focus. In this case, it likely won't include Africa.
That is a shame, say experts, because when it came to corruption, civil war or lack of political leadership, the former president said what he thought – even if he was addressing African heads of state at the African Union's assembly. At the same time, he did not ignore the many positive signs on the continent.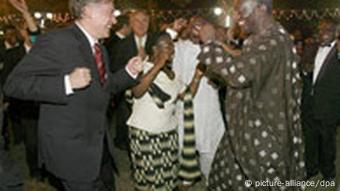 Koehler dances with Ghanian President John Agyekum Kufuor in 2007
"Civil society is growing across Africa. More and more people refuse to give in to their destinies. Farmers come together to buy fertilizer or to build wells. Civil society groups fight against corruption and put their governments to task. Women take the initiative to built schools or clinics for AIDS patients," Koehler once said in a speech.
Whether it was praise or criticism – Horst Koehler's main priority was to establish a dialogue of equals between Africans and Germans. In his first speech to parliament in July 2004, Koehler made it clear that Africa was a priority for him.
"It is my conviction that the humanity of our world will be measured against the fate of Africa," Koehler told members of Germany's lower house, the Bundestag.
IMF legacy troublesome at first
But most African leaders did not start cheering at his words right away.
"There were many people in Africa in the beginning that automatically identified Horst Koehler with the International Monetary Fund," said Ulf Engel, a scholar in the Africa Department of the University of Leipzig. Koehler had been at the helm of the International Monetary Fund until he was elected president.
The fund is notorious in Africa for Koehler's structural adjustment policies, cost-cutting measures aimed at reducing public debts. The IMF forced various African countries to introduce school fees or make visits to the hospital more expensive as part of structural adjustment. But Koehler soon managed to change his perception in Africa through his work.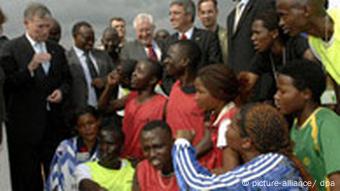 Köhler visited a youth center in Rwanda in 2008
"He gained a lot of popularity in Africa when he started his 'Partnership with Africa' initiative," said Engel. Partnership with Africa was Koehler's pet project. It was his attempt to make a direct contribution to the establishment of a dialogue of equals in real life.
It wasn't just members of Germany's and Africa's political and business elite who discussed topics such as the difficult relationship between Africa and Europe or the challenges faced by Africa's youth. Promising young people known as "future leaders" from Africa and Germany also always sat at the table.
All words, no action?
Critics sometimes commented that the meetings were just another talking shop. They liked to complain that Africa did not need more words, but action. But as the University of Leipzig's Engel says, Koehler was able to consistently make a clear statement about the policies regarding Africa.
"Some politicians were clearly uncomfortable when he took a firm stand on issues that he felt the West needed to change. A reduction of subsidies for Western products for instance, or the need to take Africa seriously," Engel said.
Germany's constitution did not give Koehler much room to put his political ideas into practice. According to the law, the president has little political power. Instead, he had to use the power of words to influence German politics, and that power wasn't always enough.
"It's tragic that he did not manage to make politicians in Berlin listen to him," said Engel.
Authors: Daniel Pelz and Maja Braun
Editor: Deanne Corbett