The curtain may have dropped on the star-studded Berlinale film festival in the capital last week, but a scandal engulfing one of its most promising German stars has now exploded in the country.
Germany's mass-selling Bild announced this week that 23-year-old Sibel Kekilli -- who received rave reviews for her role as a Hamburg nurse in the film Head-On that won the coveted Golden Bear in an unexpected triumph for Germany -- had starred in a string of porno films before her illustrious Berlinale debut.
The gritty lowdown
In a no-holds-barred report, a headline in the tabloid screamed on Tuesday, "Why did the petite diva star in such hard-core pornos?"
An assortment of pictures showed the young actress involved in a porn scene on a location in Ibiza as well as images from her latest award-winning film.
The paper reported that Kekilli, who is of Turkish origin, had starred in "nine hardcore pornographic movies" until autumn 2002. The tabloid, notorious for its dirt-digging tactics reported that Kekilli's father, who has been living in Germany since 1977 was in shock.
"The disgrace is too great for the family," Kekilli's father said. "Sibel moved to Hamburg two years ago. Apparently she worked in the city hall and now this news. I can never forgive her for it. I don't want to ever see her again," he said.
"What counts is the Golden Bear"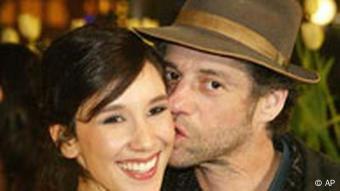 Turkish-born actors Sibel Kekilli, left, and Birol Uenel pose during a photo call before the awarding ceremony at the Berlin International Filmfestival Berlinale in Berlin Saturday, Feb. 14, 2004. Fatih Akin's film Gegen die Wand ( Head On) was awarded with the Golden Bear for the best film. (AP Photo/ Jan Bauer)
The charming angelic-faced actress, who made a splash in the media during the Berlinale together with film director Fatih Akin and co-star Birol Ünel (photo, right), is being candid about her past. "Yes, I did make these (porno) films. But that's the past. What counts is the Golden Bear," she told Bild.
The budding star has also received support from her new-found contacts in the film world. Akin said he had been aware of Kekilli's past right from the beginning, but it hadn't bothered him in the least. He added he hadn't seen the porno films himself because "I wanted to direct Head-On with an unbiased mind."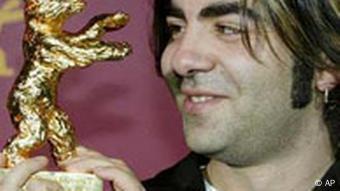 German director of Turkish origin Fatih Akin poses with his Golden Bear award after the awarding ceremony at the 54nd Berlinale international film festival Berlin Saturday, Feb 14, 2004. The Turkish-German movie 'Gegen die Wand' (Head On), won the top award "Golden Bear" at the Berlin Film Festival on Saturday. (AP Photo/Fabrizio Bensch, pool)
Akin (photo) slammed the tabloid reporting of the topic as "bigoted and disgusting" and said he hadn't mentioned Kekilli's past earlier because he wanted to protect the actress. "Sibel and I hoped naively that it wouldn't come out," he told a Berlin daily.
Even the Berlinale's director Dieter Kosslick is firmly throwing his weight behind the actress. "We're behind her all the way," he said. Kosslick admitted he too had known about Kekilli's past, and said "But I have nothing to say here morally." The Berlinale director added that he had organized a lawyer for Kekilli and mobilized everything within his power. "But thanks to the media, she can't even go out of her home, she's totally besieged," he said.
Head On wins accolades
Head-On has been hailed by the German media, not just because of its hard-hitting story line, but also because it was the first German film to win the Golden Bear after 18 long years.
Akin, whose films usually deal with young Turks in Germany straddling two cultures, has since been praised for putting German film back on the map.
The film tells the story of a young Turkish-German woman played by Kekilli who enters a marriage of convenience with a beer-drinking, middle-aged Turkish-German punk (played by Birol Ünel) to escape her conservative Muslim family. The film moves between Hamburg and Istanbul.
As the two live it up with their own wild lifestyles and separate sexual affairs, the couple eventually falls in love -- a situation that ends when the husband kills one of the lovers in a jealous rage.
Kekilli, a virtual unknown until Head-On grabbed attention at the Berlinale (she was allegedly spotted by Akin on the street and cast right away) told DW-WORLD last week that she was familiar with the situation in the film. "I also grew up in such a conservative family, where there are such girls," she said. "My parents are modern, but there were always conflicts when I didn't get my freedom to an extent, but I always fought for it."
Most agree that the present scandal won't damage Kekilli's budding acting career, but rather have the opposite effect. As German actor Mathieu Carriere pointed out, "The fact that Sibel Kekilli had starred in pornos is unimportant. Better to go from pornos to the "Oscar" than the other way round."