Fifteen Ukrainian soldiers were killed in fighting over the past 24 hours, marking the highest one-day death toll for the country's military in almost five months, the defense ministry said on Saturday.
"In the last day, 15 soldiers died and 30 more were wounded. That is the figure for the whole frontline," said Stepan Poltorak, Ukraine's defense minister.
Much of the recent fighting has been concentrated around Debaltseve, a government-held town that also serves as a major rail and road hub connecting the rebel-held cities of Donetsk and Luhansk. Debaltseve's 25,000 inhabitants have been without electricity, running water and household gas for more than a week.
The separatists are also attempting to take the neighboring town of Vuhlehirsk and the southeastern port city of Mariupol.
"The toughest situation is in the Vuhlehirsk area where the terrorists are trying to seize the town and occupy positions to move forward and encircle Debaltseve," said military spokesman Andriy Lysenko.
The renewed fighting follows a series of separate shelling attacks on Friday, which killed more than 20 civilians in Donetsk, Debaltseve and other areas.
Push to revive peace talks
Meanwhile, representatives from Ukraine, Russia, the pro-Russian separatists and the Organization for Security and Cooperation in Europe (OSCE) gathered in the Belarusian capital, Minsk, on Saturday to begin a fresh round of talks on ending the conflict.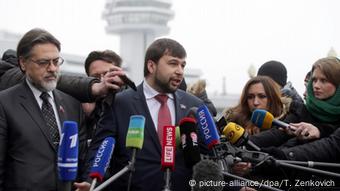 Rebel leaders Pushilin (center) and Deinego (left) arrived in Minsk on Saturday
The meeting was originally planned to take place on Friday, but had to be called off due to disagreements over who would represent the rebels.
According to media reports, Saturday's talks were to be attended by former Ukrainian President Leonid Kuchma, Russian diplomat Mikhail Zurabov, the OSCE's Heidi Tagliavini and separatist representatives Denis Pushilin and Vladislav Deinego from the unrecognized republics of Donetsk and Luhansk.
"We expect to sign a document that reinforces the Minsk Memorandum [of September] and the peace plan of presidents [Petro] Poroshenko and [Vladimir] Putin," Kuchma told the Interfax-Ukraine news agency.
The talks are the first to be a held since a ceasefire agreement was struck during meetings in Minsk on September 5. That deal has been frequently violated, and it collapsed completely last week after the rebels announced a new offensive to expand their control over a much broader section of southeastern Ukraine.
The rebels, who have been waging an insurgency in eastern Ukraine since last April, said on Friday they would keep fighting, should the talks fail, "until the entire Donetsk and Luhansk regions are freed" of Ukrainian troops.
According to the United Nations, more than 5,100 people have died so far in the nine-month conflict.
nm/cmk (Reuters, AP, AFP, dpa)