The operation began at dawn in the tent city, located on a patch of sandy scrubland in the Channel port of Calais.
With camera crews flooding the scene at "the jungle," riot police detained 278 migrants in the raid, a top state official confirmed. The migrants were then loaded into buses.
The French immigration ministry has said it will close the camp by the end of the week. But it has also promised to find an "individual solution" for each migrant.
"There won't be any forced returns to unsafe conditions," said Immigration Minister Eric Besson. "Whether a voluntary return home, an asylum request, or explusion, we will deal with each migrant on an individual basis."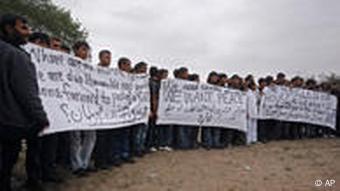 The migrants say they have no where else to go
Last remaining migrants
Thousands of migrants from Afghanistan, Iraq, and other troubled parts of the world have made the voyage to Calais over the last ten years.
Of these, most have now ventured on to other places in Europe - like Britain, Belgium, Holland, and Norway.
Workers for the several aid groups in Calais say those who remain in the 'jungle' have no where else to go.
"Those still here are mostly minors who cannot be deported, or others who simply don't have the money or connections to leave," said Vincent Lenoir, of the Salam migrant support group.
One of the migrants, Bashir, a 24-year-old English teacher from Northern Afghanistan, paid $15,000 (10,000 euros) to make the trip via Pakistan and Istanbul.
"We have no idea what the police will do, if they will take us or let us go free, but here we already made our place. Here we have our houses, our showers and our mosque," he said.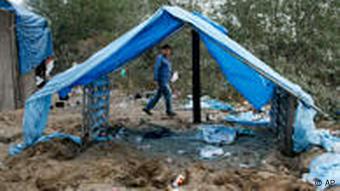 Calais residents have been repulsed by the squalor of the jungle
Locals outraged by camp
But government officials say the "jungle" has become a no-go zone for locals, and squalid conditions have been blamed for a recent outbreak of scabies. City officials also support the police operation, saying the situation has become unbearable.
French authorities operated a center for migrants at Sangatte, near Calais, but closed it in 2002 because of crime and accusations from London that it was acting as a magnet for migrants headed for Britain.
The French government says it is determined to stop illegal immigrants from entering the country, which it says is part of its stand against the practice of human trafficking.
Paris says it has planned several spike operations – like this one in Calais – to be carried out in the near future.
glb/AFP/Reuters
Editor: Jennifer Abramsohn