French Prime Minister Manuel Valls urged lawmakers to extend a national state of emergency by three months to the end of February. He justified the proposals by saying that extremists might use chemical or biological weapons for future attacks.
"Terrorism hit France not because of what it is doing in Iraq and Syria ... but for what it is," Valls told the lower house of parliament on Thursday after previously warning of further possible terror attacks.
The National Assembly voted in favor of the extension after the speech, with an upper house vote expected on Friday.
Valls did not specify whether there were any specific threats involving chemical or biological weapons, but the self-declared "Islamic State" (IS) announced in its English-language magazine that it would continue with violent attacks and "retaliate with fire and bloodshed."
French authorities had declared a state of emergency after the attacks on November 13. The Interior Ministry said that security forces had conducted 414 raids since, making 60 arrests and seizing 75 weapons, including 11 military-style firearms.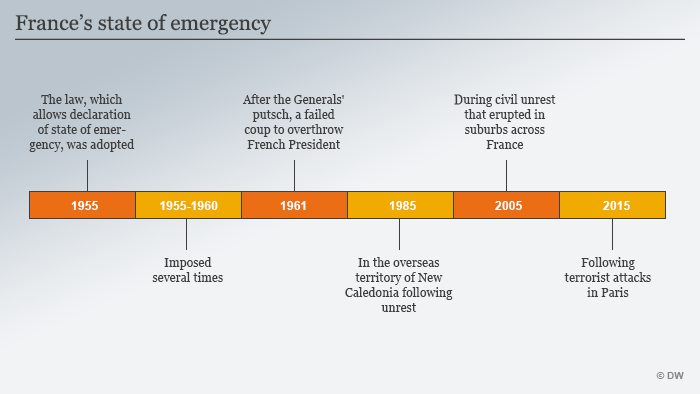 Expansion of police powers
The state of emergency expands police powers to carry out arrests and searches, and allows authorities to limit the movement of persons and vehicles at specific times and places.
Off-duty police officers would also be allowed to voluntarily carry their weapons to protect civilians as part of the state of emergency. Off-duty police carrying their guns would, however, have to wear an arm band to identify them as such. The Reuters news agency mentioned France Inter radio as saying that police authorities in France had already sent a note allowing this to all units.
Prime Minister Valls also called on Europe to urgently adopt measures to share airline passenger information in the wake of the terror attacks in Paris.
"More than ever, it's time for Europe to adopt the text ... to guarantee the traceability of movements, including within the union," Valls told lawmakers. "It's a condition of our collective security."
A US official who spoke on the condition of anonymity said that American intelligence services had warned France that some, not all, of the men identified in the Paris attacks had been on US no-fly lists.
Aftermath of Saint-Denis operation
On Thursday, officials announced that the suspected ringleader of last week's attacks, in which 129 people were killed and hundreds of others wounded, had been killed during a siege in the Paris suburb of Saint-Denis during the early hours of Wednesday morning. Belgian national Abdelhamid Abaaoud was one of two killed during a raid on an apartment Wednesday.
While working to establish the identity of those killed Wednesday, Paris prosecutor Francois Molins had said that neither Abaaoud nor Salah Abdeslam, another fugitive sought in the case, were among those held in custody after the police operation. Speaking after the seven-hour siege in Saint-Denis, French President Francois Hollande said that France was now "at war" with IS group.
In neighboring Belgium, authorities meanwhile launched six raids in the Brussels region linked to Bilal Hadfi, one of the three suicide bombers who had blown themselves up outside the Stade de France.
ss/msh (AFP, AP, Reuters)