"Tax havens must be eradicated in Europe and worldwide," French President Francois Hollande said at a Wednesday (10.4.2013) press conference, as he announced strict requirements for banks to declare their subsidiaries and activities. He also announced the creation of a new fraud fighting agency and a special prosecutor to pursue corruption and tax cheating.
The president's speech came just a week after his former "Mr. Tough" budget minister, Jerome Cahuzac, admitted to stashing hundreds of thousands of euros in a Swiss bank account and lying about it.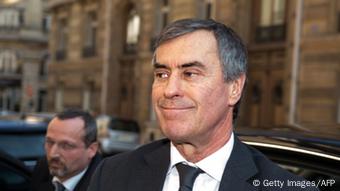 Since resigning, media pressure on Cahuzac has been so intense that he is "moving every two days"
Prior to stepping down, Cahuzac's task had been to crack down on tax cheats.
Yet some critics dismiss Hollande's proposed measures, which include new legislation on financial transparency, as an attempt to mask the larger problem: France's lackluster economy and lack of political leadership.
'Nail in the coffin'
"Maybe the political class is corrupt," said French analyst Philippe Moreau-Defarges of the French Institute of International Relations in Paris, in an interview with DW. "But what's more dangerous is that the political class is not very competent, not very knowledgeable."
For economist Tomasz Michalski of the HEC business school in Paris, Hollande's government was "inept from the very beginning," making promises to improve the economy, save French jobs and avoid austerity that it has so far been unable to deliver.
"They had a lot of rhetoric about how they were going to save or aid these companies, but at the end of the day they didn't do anything, because they realized their limits," he said. "They don't have the money, they don't have the credibility and sometimes they don't have the laws to do what they want to do."
Cahuzac, Michalski believes, was just the "nail in the coffin."
One poll, published by the French weekly Le Journal du Dimanche, found that six in 10 people now want Hollande to reshuffle his government. Unemployment is over 10 percent, while the economy is predicted to grow just 0.1 percent in the first quarter. Hollande's approval ratings, which haven't been helped by the scandal, now hover at about 28 percent.
Along with Italy, a European Commission report on Wednesday singled out declining competitiveness in France.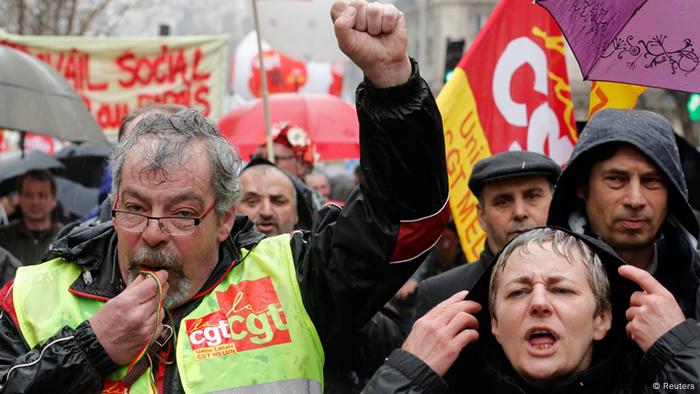 French demonstrators took to the street on April 9 to protest labor reform proposals
Tough medicine
For Henri, a civil servant who asked that his surname be withheld, eliminating corruption from French politics is a primary concern.
"Cahuzac just wasn't canny enough," Henri told DW. "But the others aren't much better. To be at the head of a country you have to be clean. The Anglo-Saxons...every time there's a problem, they deal with it. When a politician gets in trouble, they're out."
Hollande's political opponents have gone further, with far-left leader Jean-Luc Melenchon calling for nothing less than an institutional overhaul to create a Sixth Republic in France.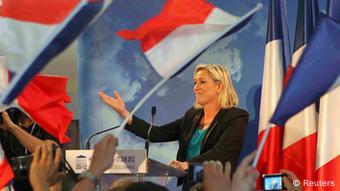 Marine Le Pen is the leader of France's right-wing National Front
Marine Le Pen, leader of the far-right National Front party, and the center-right UMP party of former French President Nicolas Sarkozy - who is himself under investigation in a separate scandal - have been equally scathing in their criticism, saying Hollande's corruption-fighting measures are inadequate.
"The big danger is that France will look for some kind of [radical] solution," analyst Defarges said. "And in a way Mr. Melenchon and Mrs. Le Pen could be the solution - and that's very dangerous."
Economist Michalski also sees the need for drastic action.
"The entire model on which the French economy was built for the last four years is coming to an end," he said. "The spend-now-and-raise-taxes-later model.... I basically think what France needs is an overhaul... like the UK did at the end of the '70s when Mrs. Thatcher took over."