The last survivor of a famous group of immigrant workers that fought against the Nazi occupation of France during World War II died on Saturday at the age of 101, French media reported.
Arsene Tchakarian, a tailor of Armenian origin, passed away at a hospital near his home in the Paris suburb of Vitry-sur-Seine, where he had lived since 1950.
He had dedicated his life to fighting "facism," French paper Le Figaro reported.
After fighting in the legendary resistance group Manouchian, Tchakarian's historical and memorial tasks occupied him for the rest of his long life. He turned his home in an archival center, spoke at colleges and schools about the Nazi occupation of France, and campaigned for the recognition of the mass killings of Ottoman Armenians as a genocide.
"I'm sort of the last of the Mohicans, as they say," Tchakarian said, according to French newspaper Le Figaro.
French President Emmanuel Macron paid homage to Tchakarian on Twitter, praising his historical work and calling him "a hero of the resistance and a tireless witness whose voice resounded with force until the end."
Wanted by the Nazis
Tchakarian was born to an Armenian family in Turkey in 1916. After fleeing to Bulgaria to escape Ottoman violence against Armenians, the family settled in France in 1930. He was conscripted into the French army in 1937, but was demobilized in 1940 once France surrendered to the Nazis.
By 1942 he had joined the Manouchians, a small resistance group made up of foreigners and named after its leader, the Armenian poet and communist Missak Manouchian.
"They were immigrants who had come from countries that were becoming fascist, like Hungary, Romania, Poland, Bulgaria," Tchakarian said, according to the German News Agency. "From all those countries, there were immigrants who were kind of hunted out."
The Manouchian group carried out an intense campaign of resistance activities against the Nazi German occupation of France that included attacks and acts of sabotage such as assassinations and train derailments.
In 1944, 23 members of the group were rounded up and sentenced to death by a German martial court in a highly publicized trial.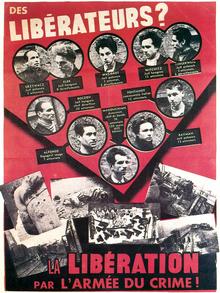 The 'Affiche Rouge' poster campaign aimed at turning public sentiment against the resistance fighters of the Manouchian group
After the execution of Tchakarian's fellow group members, Nazi German authorities and French officials in the collaborationist Vichy government hung up infamous red posters, known as the "Affiche Rouge," denouncing the members of the Manouchian group as "the army of crime" in an attempt to sway public opinion against the resistance fighters.
Read more: Nazi-looted artwork in Gurlitt collection belonged to French resistance politician
Tchakarian managed to escape to Bordeaux and was taken into hiding by fellow resistance members. He remained active in the resistance until the war's end.
After the war, he turned his focus to history, writing multiple memoirs, and fighting for recognition of the Armenian genocide.
As recently June 18, the former resistance fighter attended a ceremony commemorating the French Resistance, Le Parisien reported.
Tchakarian was granted French citizenship in 1958. He received multiple medals for bravery in the war and in 2012, he received France's highest distinction, the Legion of Honor.
cmb/jm (AFP, dpa)
Each evening at 1830 UTC, DW's editors send out a selection of the day's hard news and quality feature journalism. You can sign up to receive it directly here.