A Paris court on Friday convicted Total of bribing Iraqi officials and knowingly paying too much for oil in order to sign contracts with the Iraqi government between 1996 and 2003.
Total's lawyer, Jean Veil, said he was "disappointed" by the 750,000-euro fine ($825,000), the maximum possible amount at the time of the scandal.
French international radio RFI tweeted the news.
French judges also ordered Swiss oil company Vitol to pay 300,000 euros. The company had already paid $17.5 million in 2007 following an agreement with the District Attorney of New York. Former ambassador to the UN Jean-Bernard Merimee and former diplomat Serge Boidevai were fined 50,000 and 75,000 euros, respectively.
Appeals against 14 corporations - including Renault Trucks, Legrand, and Schneider Electric - would be heard by the end of 2016, AFP news agency reported.
The 'oil for food' scandal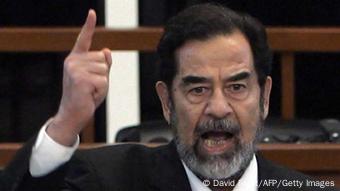 Saddam Hussein was hanged in December 2006 after being captured by US forces
The cases of corruption occurred between 1996 and 2003, when Iraq was facing international sanctions for invading Kuwait in 1990. The UN subsequently launched an "oil for food" program, which allowed former leader Saddam Hussein's government to sell limited quantities of crude oil to foreign countries in exchange of humanitarian supplies.
The government allegedly sold more oil secretly and also forced companies to pay a 10 percent surcharge as "transport costs." About 2,200 companies from 66 countries were involved in the scandal, according to a UN report.
In 2005, an inquiry by US Federal Reserve Chairman Paul Volcker found that the companies involved in the arrangement had paid over $1.8 billion in kickbacks to win supply deals from Iraq's government. 180 of the firms were French.
The companies had initially been charged of corruption in 2005, but a French court acquitted all suspects in 2013, saying proof against them was insufficient.
The UN Secretary General at the time, Kofi Annan, was also drawn into the scandal after investigators found that his son Kojo worked at Swiss company Cotecna, which had won a large contract in the "oil for food" program.
mg/jr (AFP)