The law was originally part of a wider immigration bill passed by the government in the early days of Nicolas Sarkozy's presidency in an attempt to tighten the rules on those seeking entry to France. Its supporters said voluntary DNA tests could speed up visa applications and help prove a genuine biological link between children and parents.
The law has come under intense criticism from rights groups and now the country's immigration minister, Eric Besson, has said that he is unable to comply with the web of conditions in the heavily-amended text that was finally voted by parliament.
The DNA tests were to be carried out at French consulates around the world. But Besson said that so many constraints had been added that he believed the law wouldn't work in practice.
"The genetic samples should be taken by a doctor. Our consulates aren't equipped for that. We'd need to invest a lot of resources for a very marginal interest," he added.
Critics claim test unfair to Africans
When the law was introduced, it was claimed that DNA tests could help in cases where there was doubt over whether birth certificates were valid. But opposition politicians and human rights organizations protested that it stigmatized African immigrants in particular because many Africans live in extended families where children are often adopted.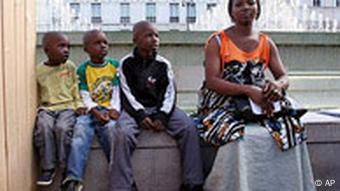 Critics claim the law is especially unfair on people from sub-Saharan Africa
Critics, like Dominique Sopo, head of SOS Racism in France, have welcomed the immigration minister's move to shelve the plan.
Sopo said this was good news because "these tests were ethically indefensible."
Under the law, tests would be voluntary; families in theory could seek a DNA test to prove a link between an immigrant in France and their relatives abroad. It was watered down to exclude people from Morocco, Algeria and Tunisia - which reinforced a feeling that sub-Saharan Africans were being stigmatized.
Prime minister promises to work on a solution
Initially the measure was strongly supported by those who argued that the rules on immigration needed tightening. However, there are now signs of disagreement within the government's camp.
According to AFP, the leader of the right-wing UMP party in the National Assembly, Jean-Francis Cope, warned that the executive had an obligation to sign the law into application.
Prime Minister Francois Fillon has tried to defuse the disagreement, defending the law in principle. He said parliament would re-examine the law to try to find a solution.
The initial law was championed by then immigration minister Brice Hortefeux, who is currently fighting off accusations of racism after he was recorded on video making what appear to be anti-Arab comments.
Author: Alasdair Sandford (mrm/AFP/AP)
Editor: Susan Houlton