A faultless performance from Sebastian Vettel saw the Ferrari driver pip Lewis Hamilton to victory in the Belgian Grand Prix, after starting the race in second.
Vettel passed Hamilton with ease on the first lap and from there the outcome was in little doubt as he controlled the race throughout the remaining 43 laps.
Vettel's fifth win of the season leaves the 31-year-old just 17 points behind rival and reigning championHamilton in the championship standings.
Max Vertsappen finished in third place after a solid performance, while Valtteri Bottas made up a massive 13 places to finish in fourth.
The start of the race, however, saw a chaotic crash involving Fernando Alonso and Nico Hülkenberg.
Hülkenberg's tyres locked and he crashed into the back of Alonso, whose McLaren sprung into the air and crashed down on Charles Leclerc's Sauber. All drivers were immediately retired but thankfully escaped unscathed.
The crash also claimed Kimi Raikonnen and Daniel Ricciardo, who clashed in the midst of the chaos.
Next up is the Italian Grand Prix in Monza, which could see Ferrari's straight-line speed hand Vettel another big chance to make up further ground on Hamilton.
As it happened:
SEBASTIAN VETTEL WINS THE BELGIAN GRAND PRIX!!
Lap 44/44 That's it, Vettel will win. Hamilton in second, of course, followed by Max Vertsappen.
By the way, here's a picture of Charles Leclerc's Sauber following the crash...
Lap 42/44 Vettel's lead almost up to 10 seconds...
Lap 40/44 There is it, Bottas makes his move and he's passed Perez into fourth! That looked too easy for the Mercedes.
Vettel is now more than 8 seconds ahead of Hamilton. No rain on the horizon, looks like a Ferrari win.
Lap 38/44 Vettel is cruising here and it looks like he'll wrap up victory at Spa. He's now opened up a six-second lead.
Meanwhile, Bottas is closing in on Perez. He's got six laps to get it done.
Lap 34/44 Bottas is up in fifth now as he gets in front of Force India's Ocon. He's set a new lap record, too. Just over four seconds away from Perez now, but a massive 30-odd seconds away from Max Verstappen and a podium finish.
Verstappen said he's looking forward to some rain. Don't think that's going to happen unfortunately, Max. Forecast says, no.
Lap 33/44 Daniel Ricciardo's race is unfortunately over. He just couldn't recover after losing his rear wing in that opening lap crash. So that's five drivers now who have been forced to retire.
Lap 30/44 Vettel increasing his lead over Hamilton now, he's well in control here it seems. Almost five seconds ahead.
Bottas still in sixth after a pit stop, with Esteban Ocon in his sights now.
Lap 25/44 Meanwhile, Bottas has now passed Romain Grosjean and is absolutely charging. Can he grab a place on the podium? He's made up 11 places so far!
Lap 24/44 Hamilton pitted in super quick time, but Vettel came out just ahead of him. The Ferrari's lead has been cut to about 1.5 seconds and it's a great outcome for Hamilton.
Hamilton is flying with new tyres and sets a new fastest lap.
Lap 21/44 Hamilton appears to have some blistering on his rear tyres. He's not worried, saying he's got enough grip. But we'll have to wait and see how long that lasts. He's about 3.3 seconds behind Vettel...
Lap 19/44 Valtteri Bottas continues his progression up the field. He overtakes both Marcus Ericsson and Pierre Gasly in quick succession. He's now up to 8th. He started in 17th. Kevin Magnussen is next in his sights, about three seconds ahead.
Lap 16/44 Hamilton was struggling to make any ground on Vettel, but after a new fastest lap, he's now about 3.5 seconds behind the Ferrari.
Lap 15/44 Fernando Alonso after the crash, hailing the halo for keeping Charles Leclerc safe:
"I'm happy he's ok. It's proof of how good the halo is."
This is how Alonso crashed down on him...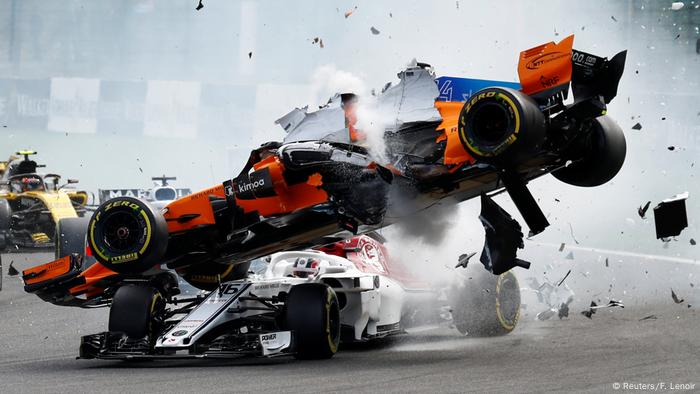 Lap 14/44 Verstappen sounds like he's enjoying himself out there - "it's very nice to drive and it's all good" he says on the radio. Can he get ahead of Hamilton next? He's about 12 seconds behind.
Meanwhile, Valtteri Bottas is creeping his way back up the field, now in 10th.
Lap 10/44 Vertsappen makes another move, this time overtaking Perez. He's up to third now!
Lap 9/44 Another casualty, Raikonnen is also unable to continue. He sustained damage after a tangle with Ricciardo.
Lap 9/44 This was the moment, insane crash to start the race!
Lap 7/44 Max Verstappen makes a neat overtake of Esteban Ocon and he moves into fourth now. Vettel, Hamilton and then Perez in the front three.
Lap 6/44 It appeared as though Daniel Ricciardo would be forced to retire as well. He lost his rear wing in the first-lap mess and he'll be livid, too. But he's back on the track, several laps behind, mind.
Lap 5/44 So back to business as usual and we restart with Vettel in front with Hamilton following. Race on!
To recap the intense start - Hückenberg crashed into Alonso, whose car went airborne and came down on Leclerc. All drivers are ok, but their races are over.
Lap 1/44 The aftermath of that hectic crash sees Daniel Ricciardo affected too. He needs a new rear wing attached to his car. Kimi Raikonnen has a puncture. Full safety car is out.
Lap 1/44 In all that mess, there's a leader change! Sebastian Vettel has edged ahead of Lewis Hamilton. What a start to the race!
Lap 1/44 Wow! A huge crash at the start, absolute chaos. Leclerc, Alonso and Hülkenberg are all out!
Nico Hülkenberg locked up on a crowded first turn and rammed into Fernando Alonso, who gets quite a bit of air. Charles Leclerc involved too. All drivers seem ok.
15:05 We're just five minutes away now, the Spa Francorchamps course is looking as beautiful as ever, and it looks like we're going to have a dry run (for now). The forecast is set for partly cloudy with 20% chance on rain.
14:55 Hamilton and Vettel start in the first row, with India Force behind them in 3rd and 4th with Esteban Ocon and Sergio Perez. Here's the full starting grid...
14:40 Herzlich willkommen! All the action kicks off in about 30 minutes.
14:30 CET
Lewis Hamilton qualified fastest on Saturday, the wet conditions falling in his favor as Sebastian Vettel couldn't find the speed he needed. The Ferrari driver, who lies 24 points behind Hamilton, called his and teammate Kimi Raikonnen's performance as "scrappy".
Last year, Hamilton held off Vettel's attempts to overtake on the first lap and then retained his lead to win the race. It will be a similar strategy this time around, with Vettel looking to take advantage of the long run leading into the Les Combes chicane to launch a slipstream attack.
The action starts at the Spa Francorchamps circuit starts at 15:10pm (CET). Join us from 15:00 for all the blow-by-blow updates.