"All our saving are gone, we sold our cars, whatever valuables we owned; some colleagues even sold their houses to get by," recounts a teary-eyed Adriana Islas Caballero, who once worked for the now-defunct Mexicana airlines. Eight years have passed since the Mexican carrier, which was Latin America's oldest, went bankrupt. Islas Caballero and her 8,000 former co-workers are still waiting to receive financial compensation and their pensions.
Fausto Guerrero Diaz — who heads the Association of Pensioners, Employees and ex-Employees of Mexicana airlines, or Ajteam — says the carrier's bankruptcy has been especially hard on retirees. "Most of us are too old to find a new job," the 59-year-old explains. He says many pensioner were forced to use up their savings just to survive. Many, Guerrero Diaz adds, lost everything they owned, and paid a steep price health-wise.
Read more: US-Mexico relations: Will AMLO bring a new era?
Guerrero Diaz says he and his former colleagues have spent the past eight years desperately fighting for justice. "We have taken legal action, protested, erected street barricades, and even gone on hunger strike," he recalls. "But the authorities only gave us empty promises." When they realized the Association of Aviation Flight Attendants (ASSA) did not support them, they decided to take matters into their own hands and establish their union: Ajteam.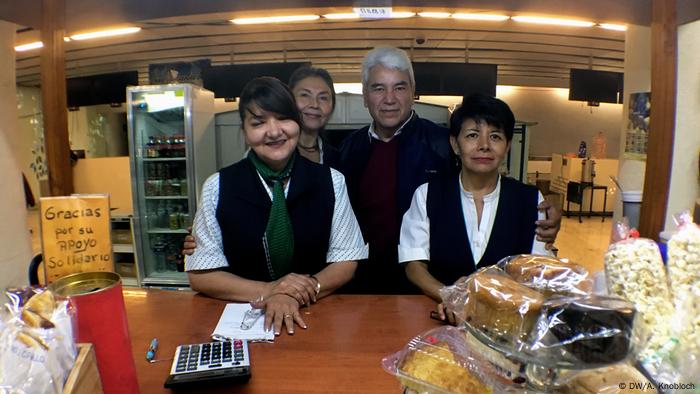 Guerrero Diaz (second from right) says the cafeteria has helped a number of former Mexicana staff get by
Former airline staff now run airport cafeteria
Several years ago, former Mexicana employees occupied a part of Mexico City's airport. Then, three years ago, they set up a cafeteria there selling homemade sandwiches, baked goods and coffee. "We had run out of funds; each time we came to the airport to protest, we faced expenses for petrol, coffee and baked goods," Islas Caballero recounts. So they simply decided to open their own cafeteria to generate some income.
Read more: Mexicans snub controversial new airport in referendum
"About 70 families can get by thanks to the money generated from the cafeteria," says Guerrero Diaz. The former airline employees also put up large posters nearby highlighting that Mexico's former president, Enrique Pena Nieto, once promised to help find a solution to the Mexicana quagmire. However, nothing ever came of the president's pledge. In fact, Guerrero Diaz thinks the state has deliberately prevented any kind of deal.
Asset stripping
Mexicana airlines, once state-owned, was privatized in 2005 and sold to Mexican hotel operator Grupo Posadas for a fraction of its real worth. The sale included Mexicana's pension fund, worth some $130 million (€115 million). But just five years after Grupo Posadas took over, Mexicana airlines had already racked up some $800 million in debt.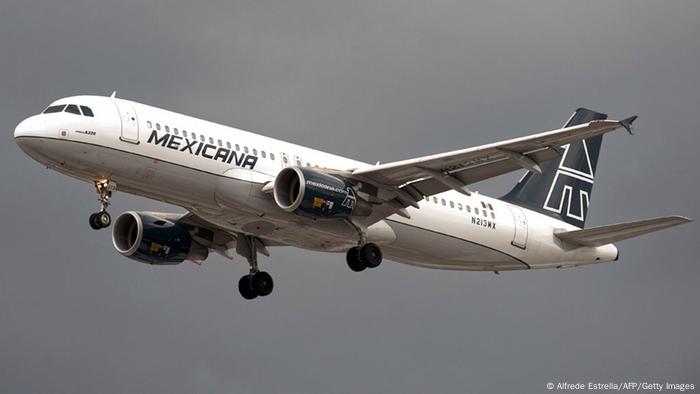 Prior to its bankruptcy in 2010, Mexicana was one of the oldest continually operating airlines in the world
The airline's assets vanished. Everything was sold off, even the emblematic Mexicana skyscraper in Mexico City. Guerrero Diaz accuses Grupo Posadas CEO Jose Carlos Azcarraga Andrade of having robbed the workers' pension savings and systematically stripped the airline's assets. "All this happened despite the government's knowledge and without repercussions," says Guerrero Diaz.
Valuable air routes, takeoff and landing slots
Mexicana subsequently filed for bankruptcy and ceased operations on August 28, 2010. The carrier's air routes as well as takeoff and landing slots were loaned to other airlines.
"The routes and slots belong to the workers," stresses Guerrero Diaz, adding that "they are the most valuable asset; in the US and Europe single slots like these are worth some $35 to 40 million." He says the defunct carrier possesses almost 3,000 slots. That, in his view, would suffice to generate enough money to pay all former employees a fair compensation and cover pension expenses. But he blames the government for perverting the course of justice and finding excuses to instead help its friends who run major airlines such as Aeromexico, Interjet, Volaris and VivaAerobus.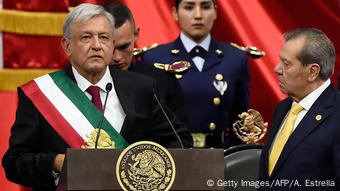 AMLO supported the former Mexicana workers during his campaign
Guerrero Diaz concedes that some money was made from the sale of Mexicana planes and engines. But that, he insist, will not suffice to cover all costs: "Other carriers have capitalized on Mexicana's bankruptcy and the government wants to fob us off with crumbs."
Newly inaugurated Mexican President Andres Manuel Lopez Obrador, often called AMLO, might offer a glimmer of hope. The left-leaning leader repeatably expressed sympathy for the Mexicana workers during his election campaign. "We will continue our struggle and hope that the president will have the will to deliver justice," says Guerrero Diaz.