German Foreign Minister Guido Westerwelle announced Sunday he will not run for another term as head of the Liberal Free Democrats (FDP) and on Monday, he also signaled that he was willing to give up his post as vice chancellor.
"If the next head of the party is already a member of the cabinet, it's clear that person will also be vice-chancellor," Westerwelle said on Monday at an FDP conference in Berlin.
Westerwelle intends to stay on as foreign minister.
Westerwelle's announcement concluded days of speculation about his political future and came after his return from a trip to China and Japan.
He said the decision to give up his post was difficult after serving as party chief for 10 years. However, he added that it was made easier by the fact that a number of young liberals stand ready to take over the reigns of the FDP.
"I'm sure that it's the right decision," Westerwelle said. "It's the right decision to begin now with a change of generations and a new start in the FDP."
Controversial figure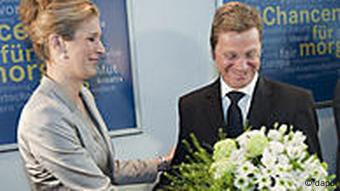 Westerwelle is making way for a bunch of bright young Liberals
Westerwelle had come under fire within his own party in recent weeks after the FDP suffered a series of bruising electoral defeats in Rheinland Palatinate, Saxony Anhalt and the key state of Baden-Württemberg.
In Baden-Württemberg, the FDP barely cleared the 5 percent threshold required for parliamentary representation. Westerwelle's party proved unable to enter the regional parliaments in Rheinland Palatinate and Saxony Anhalt.
Westerwelle has been a polarizing political figure since assuming office in a coalition government with Chancellor Angela Merkel's Christian Democrats (CDU).
In the federal elections in September 2009, the Free Democrats won a historic 14.6 percent of the vote.
However, the party's record success began to crumble as Westerwelle's public image was tarnished in a series of political controversies.
He sparked outrage by referring to social welfare programs as "late Roman decadence." And ideological divisions with his CDU coalition partners over tax cuts and economic policy became public early on, giving the opposition Social Democrats and Greens an opportunity to snipe at the center-right government's support among voters.
Currently, the FDP is hovering around the 5 percent hurdle needed to maintain representation in the German national parliament, the Bundestag. Should the party dip below this critical number, they would lose their place on the national political stage.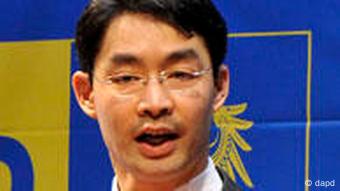 There has been speculation that Rösler may succeed Westerwelle
In the past month, both Westerwelle and Merkel's credibility has come under fire after they reversed their long-held positions supporting nuclear energy in the wake of the Fukushima power plant crisis in Japan.
Their rapid change in position is often cited as one reason for their recent electoral losses and the major gains by the center-left, environmental Greens.
Possible successors
Although successors have not been officially announced, Health Minister Philipp Rösler and General Secretary Christian Lindner are considered likely candidates.
Rösler has said that the FDP's future as a viable political party depends on regaining credibility with the German people.
"It all depends on winning back lost credibility," Rösler said in an interview with the German tabloid Bild on Sunday. "We have to care more for the reality of people's lives."
Lindner has said that both a change in content and personnel will be necessary to bring the FDP back to form, saying it was "essential to gain credibility, competence, respect and sympathy with new faces."

Author: Matt Zuvela, Spencer Kimball (AP, dpa, AFP)
Editor: Nicole Goebel