The fish market in Mbour, on Senegal's Atlantic coast, is one of West Africa's busiest. The catch of the day can be bought straight off the colorful wooden canoes all year round.
Jen, the Wolof word for fish, is a dietary staple and a prized resource in Senegal. It is the main ingredient in thieboudienne, a very popular dish made of fish, rice and vegetables.
An estimated 20 percent of the country's workforce — some 600,000 people — are employed in the fisheries sector.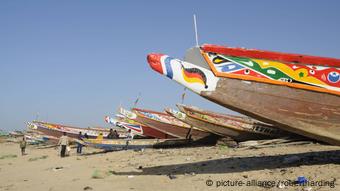 Pirogues, traditional fishing boats, on the beach of Mbour
In reality, insiders say, the fisheries sector has been nowhere near as vibrant as Mbour market in recent years.
"When the ships go out to sea together, there are not enough fish and they return without any catch. People are thinking there are no more fish left," said Gaoussou Gueye, a veteran fishmonger.
"If we still had enough fish in Senegal, we would not to have to look for licenses in other countries to fish."
Food for fish
Today, Gueye is the president of the African Confederation of Artisanal Fishing Organizations, which represents small-scale fisheries across West Africa.
The region's fish stocks have been depleted over many years by the industrial trawlers combing its oceans for species such as tuna, destined for European and Asian markets.
Lately, industrial-scale aquaculture in Asia especially is also fueling demand for West Africa's fish stocks and making a bad situation worse.
Fish farming requires powdered fish meal. In recent years, a dozen fish meal factories have been built along the Senegalese coast. In neighboring Mauritania, 30 such factories opened their doors in the past 15 years. Many are Chinese-owned.
Sardinella, a traditional staple caught off West Africa, are turned into fish meal and animal feed at these factories.
'Destroying value'
The fish from West Africa is affordable compared to other parts of the world and is therefore a cheap source of fishmeal.
"The problem with fishmeal is that for one kilogram (2.2 pounds) of fishmeal you are using at least five to 10 kilograms of fish. So you are also destroying the value of fresh fish for the population," Francisco Mari, an expert on fishing at the relief and development agency Bread for the World, told DW.
"The production of fishmeal is irresponsible from a nutrition standpoint," Mari said. The foreign production of the fish feed is driving up the price of sardinella on the local market.
About 20 percent of Senegalese fishers catch only sardinella. For them, the fishmeal plants are more attractive as customers than locals: they buy in bulk and pay in cash.
Workers in the fisheries sector say they fear losing their jobs as they face increasing competition over the region's staple diet.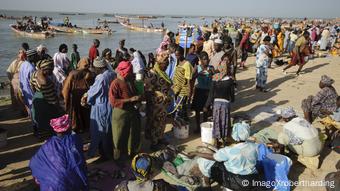 Senegal's fisheries sector is a vital part of the economy
Women bear the brunt
A European Union initiative supports women working in West Africa's fisheries sector. Linnea Engstrom, the deputy chair of the European Parliament's Committee on Fisheries, visited the region recently. She explains that the women who prepare, smoke and then sell the fish are especially affected by the rising prices.
"These women are in a very vulnerable situation; they have to compete with large international companies to buy fish from the fishermen," Engstrom told DW.
"The prices of the fish have gone up immensely and they can no longer afford the resource they need to sustain their business and to feed the population."
The cost of pollution
In Mauritania, the strain on the environment from fishmeal production has been immense. Toxic waste from the factories is dumped into the sea and thick smoke pollutes the air.
Moctar Ame is an ear, nose and throat specialist in Nouadhibou, a coastal city where more than 20 of Mauritania's fishmeal factories are located. Ame said he has seen public health in the region deteriorate since the factories were opened.
He estimates that 20 percent of his patients suffer from diseases directly related to the pollution.
"There are many diseases that are directly related to the pollution of these factories. They release toxic air particles. When these particles enter the body, they cause allergies, chronic bronchitis and skin rashes. We cough a lot and have infected throats because of these particles," Ame explained.
Read also: Raising money from catfish in Ghana
Innovation and regulation
The government, which once welcomed fishmeal factories, is under pressure to act on pollution, he says.
Industries are no longer permitted to dump their toxic waste into the sea, for instance. But for many, the changes have come too late. Many people have left their homes in the city to get away from the toxic pollution.
Gueye is calling on governments to prioritize public health over financial gains.
"We should not allow any factories without doing thorough environmental impact studies in advance. And if these studies show the potential for environmental damage, the factories should not be allowed," he told DW.
Engstrom says there are other investment opportunities in the fisheries sector in West Africa.
"There are great opportunities for real investment in a real factory that will provide real fish conserves; that would be real jobs for the local population. It would be real food, not food for animals. And I think that is the kind of investment that we need."
Read also: The impact of illegal fishing in Ghana