River Plate, who have won 36 domestic titles, and Independiente, the most successful side ever to play in South America's top club competition, the Copa Libertadores, are both named by the NGO, which claims minors were allegedly abused in River's youth divisions between 2004 and 2011.
At least two of Independiente's youth players were allegedly the victims of a more recent prostitution ring. The allegations first emerged after one of the players broke down during a session with a psychologist. He said that he had been abused, that he had had sex with men in exchange for money and that players were recruited to the prostitution ring by another club member.
Read more: Barry Bennell child-abuse case about justice rather than change
On Wednesday, the prosecutor investigating the case said that a 19-year-old who recruited them was abused himself, and is now cooperating with authorities. At least seven minors were prostituted and 10 more minors are believed to have been potential victims. As it stands, five men suspected of being part of the prostitution ring have been arrested.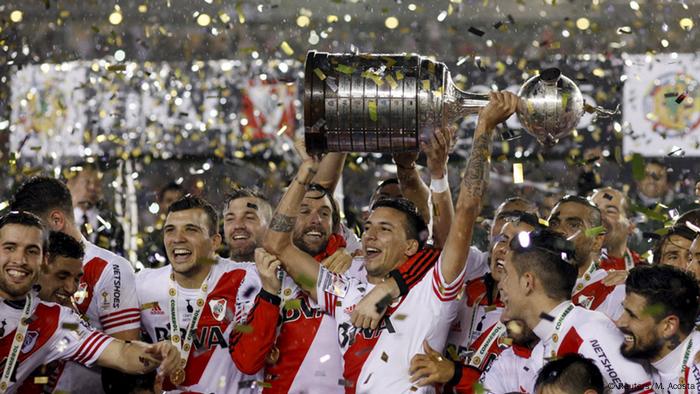 River Plate, seen here after winning the 2015 Copa Libertadores, are one of Argentina's most famous clubs
Investigators are also looking at calls made to young players that may have been incidences of grooming. "Many kids were contacted but they didn't fall. We're investigating this. Thank God these acts were not carried out," prosecutor Maria Soledad Garibaldi said at a press conference. "We're all united here - the kids, the parents, and the law."
The accusations come just days after police arrested a referee for his suspected involvement in a child prostitution ring with young Independiente players.
River Plate have said that they will work with authorities while Dante Majori, the president of the Argentine Football Association's (AFA) youth and children's committee, said the claims will be examined.
"We want this to be investigated," said Majori. "We want to contribute with the law so that those responsible for these abhorrent acts are caught."
The Argentinian FA also said it will monitor boarding houses, where the country's young players often live. Many of the children come from low-income families and move far from their homes to try and make it in the sport.
But the abuse scandal is not confined to football. Argentina's Olympic Committee has also filed a legal complaint against a gymnastics coach who is accused of abusing a number of athletes.

mp/mf (AP,AFP)