64 tons of tainted milk products have been seized by authorities in poor and remote parts of China's northwest and northeast. Just a few days ago, a UN agency for food standards set limits for the melamine concentration in food products. For powder infant milk formula the new limit is one milligram of melamine per kilogram of formula, while for other food it is 2.5 milligrams. This standard is identical with that of the Chinese Health Ministry, which released its standard two years ago after the scandal involving contaminated milk powder in China shocked the world.
According to official figures, the highest melamine concentration in milk products at that time exceeded 2500 milligrams per kilo. The highly adulterated milk powder caused the death of six babies, and around 300,000 babies fell ill.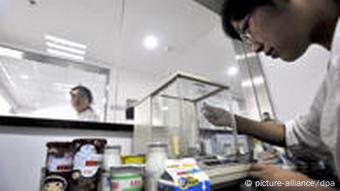 A lab assistant checks the content of melamine in milk products
New rules may not help
Zhou Qing, a close observer of the food safety situation in China, welcomes the new UN guidelines. But he does not believe the new rules can help much to improve the situation in China:
"There are plenty of rules and regulations in China as far as food safety is concerned. But as I have always emphasized: China is not lacking rules, but the rule of law. Many lawmakers, law enforcement officers as well as very normal people have no true respect towards the law."
Zhou Qing began to investigate food safety in China in the late 1990s. The results were shocking. A producer used sick and dead animals to make their well-known "braised chicken". A famous ham producer soaked the meat in Dichlorvos – a toxic pesticide, so the ham later would not attract flies.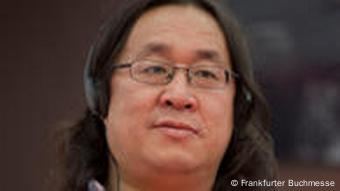 Zhou Qing is an observer of the food safety situation in China
A book about food safety
Based on his investigations, Zhou Qing published his book "What Kind of God – A Survey of the Current Safety of China's Food" in 2004 in China after having to delete two thirds of the content. In 2006 the book won the international Lettre Ulysses Award for the Art of Reportage.
In his book, Zhou Qing forecast that scandals related to food safety would drastically increase. With the tainted milk powder scam emerging soon after the 2008 Olympics, his fears came true. His book was acclaimed widely and was translated into different languages. A revised version in Mandarin is being published in Hong Kong.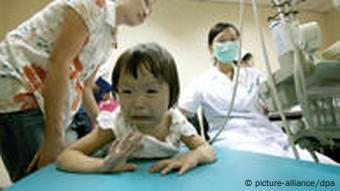 Many kids were hospitalized in China after consuming melamine contaminated milk products in 2008
Children are more vulnerable
In it, the author makes another prediction: the so-called "Egg and Milk Project" in Chinese schools will lead to the next huge scandal. The government has ordered that school children in rural areas be given a glass of milk and an egg at low prices every day. Zhou Qing says the safety of these products is not guaranteed, so the risk of children falling sick in large numbers is very high. He believes government officials are promoting this project for their own interests:
"Why is the government placing advertisements for milk companies? There must be a hidden agenda here. Unfortunately, just as my book was going into print, two scandals relating to the 'Egg and Milk Project' hit the headlines in Shanxi Province, where hundreds of children became ill. I am really losing hope for food safety in China."
Food is the people's Heaven, a Chinese saying goes. But it seems this heaven has turned into hell for many Chinese consumers.
Author: Miao Tian
Editor: Grahame Lucas