London Heathrow airport announced that BA expects to run a full flight schedule on Tuesday after the worldwide computer system failure stranded 75,000 passengers over the holiday weekend.
"Our IT systems are now back up and running and we will be operating a full flight schedule at Heathrow and Gatwick on Tuesday 30 May," BA said on its website.
British Airways Chief Executive Alex Cruz on Monday denied union accusations that a massive computer failure that forced the cancellation of an estimated 800 flights was caused by staff redundancies and the transfer of IT work to India.
"All the parties involved around this particular event have not been involved with any type of outsourcing in any foreign country," Cruz told British broadcaster Sky News.
BA blames 'local issue'
He blamed the computer crash on a power supply problem at a "local data center, which has been managed and fixed by local resources."
The GMB trade union had said the disruption "could have all been avoided" if BA had not cut hundreds of IT jobs in Britain and transferred the work to India.
Read more: Air controllers report 40 incidents of drones near passenger planes
On Saturday, BA cancelled all flights departing from London's two largest airports, Heathrow and Gatwick, due to the global computer failure, which hit check-in counters, online bookings and the airline's call centers.
The widespread disruption continued on Sunday, and also forced some flights into the UK to be cancelled. In total some 75,000 passengers were left stranded.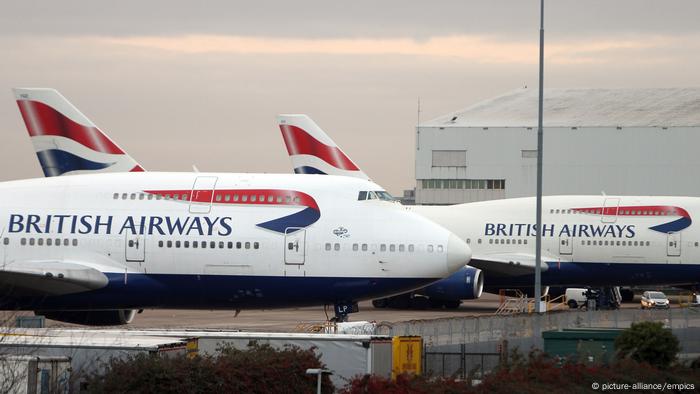 Some 800 British Airways flights were canceled over the past three days due to the IT glitch
Cruz told Sky News he was "profusely sorry" for the inconvenience caused, and promised an "exhaustive investigation" into the system failure.
Returning to normal
The BA boss said the airline was making "good progress" on restoring flights and promised that 95 percent of services would run from both airports on Monday. Those flights still canceled were mostly short-haul services, the airline said.
Data from flight tracker FlightAware.com showed BA's sister airlines in Spain, Iberia and Air Nostrum, cancelled more than 320 flights on Monday. BA itself cancelled another 27 flights and had 117 more delayed.
Read more: US considers laptop ban on all international flights
The meltdown quickly turned into a major public relations disaster for the flagship British carrier, as both airports saw chaotic scenes. Many passengers had to leave without their luggage, amid complaints about a lack of information.
Costly glitch
Financial analysts estimated the computer crash could cost the company up to 100 million pounds (115 million euros, $128 million) in compensation claims and lost business.
BA insisted the glitch was not part of a cyberattack, following widespread speculation in the British media.
The UK is still recovering from a global ransomware attack that crippled crucial infrastructure earlier this month, including the state-run National Health Service.
mm/tj (AFP, AP, Reuters)