Towards the end of the hot Italian summer, Venice dresses up for the ultimate movie star parade. When the Venice Film Festival calls, everybody comes: Kate Winslet, Madonna, Jodie Foster, Colin Firth, Gwyneth Paltrow, Christoph Waltz, Matt Damon, Jude Law, and Al Pacino are all expected to make an appearance.
George Clooney is also one who often likes to turn up in Venice. The Hollywood star and heartthrob's political thriller "The Ides of March," is set to open the festival on Wednesday evening.
The film deals with a young PR guru who works for a presidential candidate and inadvertently finds himself involved in a corruption scandal. Clooney not only wrote and directed the film, he also plays the role of the presidential candidate and governor, Mike Morris.
The Venice event is not only the world's oldest film festival, but is also said to be the soul of cinema in general. As in Cannes, it's less about making money and more about the art itself. Film greats like Akira Kurosawa, Ingmar Bergmann, Michelangelo Antonioni or Luchino Visconti all launched their careers in Venice.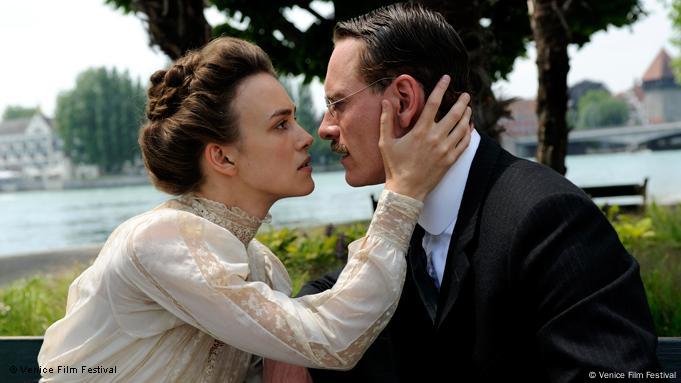 'A Dangerous Mind,' starring Keira Knightley and Michael Fassbender, is competing for the Golden Lion
German co-productions
Sexuality is the suppressed source of all human action, according to Sigmund Freud. And psychoanalysis plays an important role in "A Dangerous Method," by Canadian director and horror film expert David Cronenberg.
The German-Canadian production portrays the disagreement between Sigmund Freud and his talented pupil Carl Gustav Jung over Jung's affair with a Russian patient. The picture was filmed near the University of Vienna, at the Belvedere Palace and in Berggasse, where Freud once lived.
"Carnage" by Roman Polanski, another film in the contest, is a German-French-Spanish-Polish coproduction. Christoph Waltz, Kate Winslet, Jodie Foster and John C. Reilly star in this adaption of Yasmina Reza's play "The God of Carnage."
Two families from intellectual circles quarrel after their sons beat eat other up at school. When they meet to talk about the incident, the parents lose control go at each other.
On the horizon
Darren Aronofsky is the chairman of the jury this year
In the festival's "Horizon" series, which focuses on new trends among both art films and documentaries, German films come to the fore with hefty topics. The German-Austrian documentary "Whore's Glory" by director Michael Glawogger deals with international prostitution, while Romuald Karmaker's documentary "The Lord's Herd" looks at the pope. And experimental director Heinz Emigholz reviews the domes in architecture over the past two millennia in "Parabeton."
The director of successful dance thriller "Black Swan," Darren Aronofsky, returns to Venice as chairman of the jury this year. One choice has been already made in the run-up of the festival: Italian filmmaker Marco Bellocchio is to receive the Golden Lion for his life's work.
Author: Sabine Oelze / ef
Editor: Kate Bowen