The 8th Nippon Connection Festival taking place in Frankfurt from April 2-6 is a celebration of Japanese film -- and an attempt to show audiences that not all the good stuff has to come from Europe and the US.
In the year it was first founded, just 282 domestic films had been released in Japanese theaters and 13 were screened at the fledging festival in Germany.
By last year, the number of releases had almost doubled. The industry's growth is reflected in Frankfurt, where more than 130 films are showing at the Nippon Connection this year -- among them many premieres for Europe and Germany -- ranging from blockbusters to low budget productions.
"What we want to do is demonstrate the diversity of Japanese cinema," said festival director Marion Klomfass, who is quick to point out that the event provides a platform for both established directors and debut filmmakers.
Blazing a trail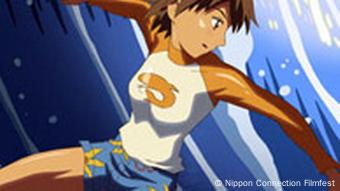 Animes are box office magic
Marion Klomfass has been on board since day one. In the late 1990s, the former Sinology student teamed up with a friend to set about increasing the number of Japanese films shown in Germany with subtitles.
"We just wanted to show a few films, and we were expecting at most 2,000 visitors," she said. "In 2000 we never expected such a demand. But more than 10,000 people showed up. We ended up so over-run we had to organize many additional screenings."
It wasn't long before Klomfass decided it was worth launching an annual festival -- and the Nippon Connection Film Festival was born.
It has since become the definitive event for fans of Japanese cinema, attracting over 16,000 visitors in 2007. Along with the movies and the Nippon Cinema Award ceremony, the program includes cultural events such as a Japanese tea ceremony and a sake workshop.
Audience award
The organizer's favorite this year is the movie "United Red Army" made by Koji Wakamatsu, a well-known director in Japan. The film explores a highly taboo subject: the Japanese Red Army (JRA) terrorist group founded in 1971. The group claimed to have about 40 members at its height and was at one time among the best-known armed leftist groups in the world.
"Japanese cinema has been very apolitical in recent years," Klomfass explained.
"United Red Army" is the first movie to take a look at the JRA, the student protests and terrorism in Japan in the late 1960s and early 1970s. That's one of the reasons why the film is my favorite for the prize."
Tokyo -- a far cry from Hollywood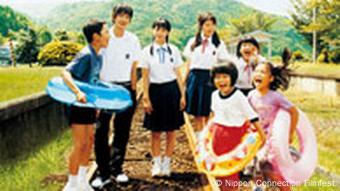 "A Gentle Breeze in the Village"
Japanese film has become increasingly ambitious, with genres from comedies, thrillers and action pictures all doing well at the box office. But to foreign audiences, they may take a bit of getting used to.
Klomfass has noticed that Japanese cinema differs from US and European productions in a number of key ways, not least in terms of narrative. Frequently, moreover, the film revolves not so much around one central figure but boasts a host of characters with equal relevance to the plot.
Japanese film also has a distinctive visual language.
"Cinematography in Japanese cinema is much more important," Klomfass said. "Meaning tends to be conveyed via images rather than dialogue."
Manga mania
To many in Europe, their first association with Japanese cinema is inevitably Manga, and Nippon Connection doesn't disappoint.
One movie riding the wave of success recently enjoyed by Manga's latest variant, shojo -- Manga for girls about adolescent romance -- is "A Gentle Breeze in the Village" by director Nobuhiro Yamashita, who ventures into the tender world of childhood and young romance.
"5 Centimeters per Second" is another anime about first love, made up of three short episodes. Director Makoto Shinkai has made a name for himself in Japan as a master of his craft, and an artist who's been compared to Hayao Miyazaki, director of films such "Princess Mononoke," "Spirited Away" and "My Neighbor Totoro," which have enjoyed both critical and commercial success in Europe and the United States.
"Makoto Shinkai is what's known as an independent anime director," Klomfass said. "He directs, draws and writes the music to all his films himself, and he doesn't produce in the major studios."
She hopes that her festival will help make him -- and many others -- household names not just in Japan.