Soccer's world governing body FIFA on Tuesday introduced a year-long campaign to fight match-fixing by encouraging whistleblowers and granting a temporary amnesty to those who report corruption.
"Players are living in fear in many countries," FIFA Security Director Chris Eaton said at a news conference on Tuesday. "If they come forward and have valuable information, … they will be protected."
Eaton said that there was anecdotal evidence that players "have been killed by crime syndicates." Some even committed suicide, for example in South Korea, FIFA said.
FIFA will offer a three-month amnesty to those who come forward to report their involvement in match-fixing cases. A hotline and a website, run independently by FIFA, will open February 1, to encourage whistleblowers.
Fat profits
The football governing body estimates that fixers make between $5 and $15 billion in profit each year from manipulating matches across all sports.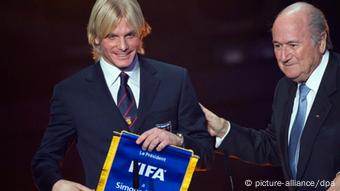 Farina has been honored by FIFA for his position on match-fixing
"The money generated is enormous, truly staggering," Eaton said.
FIFA is also keen to harmonize international legislation, saying that a coordinated global approach was needed. In his native Australia, he said, match-fixing can be punished by up to 10 years in prison, whereas in Finland, Singapore international Wilson Raj Perumal only received two years recently - the maximum sentence in the Northern European country.
Perumal paid players up to 20,000 euros per match and received up to 50,000 per match each time the results of the Rovaniemi team were fixed.
Italian defender Simone Farina, who has been made a fair play ambassador by FIFA, set a good example by resisting and rejecting an offer for fixing an Italian Cup match between his club Gubbio and Cesena.
"But, more importantly, he reported it," Eaton said. "He displayed model behavior for young players; he resisted significant money to fix what many people would consider an unimportant fixture."
Author: Nicole Goebel (Reuters, AP)
Editor: Michael Lawton