On Monday, Julian Assange (right in photo) told reporters in London that he intended to leave the Ecuadoran embassy "soon." However, he did not give reasons for his announcement, or specific dates, or disclose where he wanted to go.
The WikiLeaks founder did not confirm that he was seeking medical treatment, although he did admit that his health had deteriorated.
The 43-year-old Australian had taken refuge inside the embassy two years ago, to escape extradition to Sweden, where authorities want to question Assange over alleged sex crimes. He fears the country would be likely to extradite him to the United States, where he could face severe penalties over disclosing US military secrets relating to the war in Iraq.
Destination Ecuador?
His statements on Monday left many questions unanswered in an already complicated situation, despite additional comments from WikiLeaks spokesman Kristinn Hrafnsson and Ecuadoran Foreign Minster Ricardo Patino (left in photo).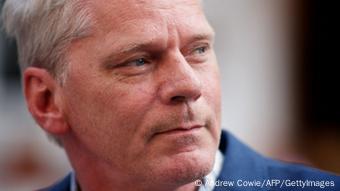 Hrafnsson: 'He will not hand himself over'
After Monday's press conference, Hrafnsson told reporters that Assange did not intend to hand himself over to the police. Assange would leave if "the siege outside" was called off and if the British government guaranteed him safe passage to Ecuador, where President Rafael Correa has granted him asylum.
In the wake of Correa's decision, ties between the UK and Ecuador have taken a downward turn.
Foreign Office adamant
Appearing with Assange, Patino pledged that the Australian would remain under Ecuador's protection and that he would work with British Foreign Minister Philip Hammond to resolve the issue. He mentioned "a better climate for us to reach an agreement,'' referring to recent legal changes in Britain according to which formal charges - not forthcoming from Sweden in relation to Assange thus far - are a prerequisite for extradition.
The Foreign Office announced that authorities hoped to find a solution, but affirmed that the WikiLeaks founder still had to be extradited.
The Assange affair has proved costly to taxpayers. The Australian has been staying inside the embassy since June 19, 2012. The complex is constantly guarded by police at a cost that is estimated to have reached over 7 million pounds (9 million euros/$12 million).
ws/mkg (Reuters, AFP, dpa, AP)