The Turkish lira has depreciated almost 9 percent this year, recalling memories of the financial crises that the country struggled through in the 1990s and early 2000s. Following a sharp devaluation in the value of the lira then, that crisis lasted several years until the economy got back on its feet again with tight monetary measures.
The current political turmoil in Turkey and the slowing economy has again shaken confidence. Turkish businessmen told DW that if the Turkish lira continues to slide, it could jeopardize new investments and hamper growth. The economy slowed for the first time in seven years in the third quarter of last year.
Central bank intervention
The expectations of a rate hike from the US Federal Reserve and Moody's report on Turkey's banking sector say security problems in the country are increasing macroeconomic pressures, pushing the lira to an all-time low of 3.77 against the greenback on January 9.
The lira extended losses and was trading at 3.8950 against the dollar on Wednesday morning, bringing total losses this year to almost 9 percent. The lira was trading at 4.07 against the euro in early morning trading on Wednesday.
The Turkish lira has been under pressure due to rising regional tensions, political uncertainties in Turkey amid widening concern about the crackdown following the July 15 failed coup, and a strengthening US dollar after the election victory of Donald Trump. The currency has been among the biggest losers among its emerging peers this year.
The central bank intervened on Tuesday to halt the slide in the lira by cutting foreign exchange reserve requirement ratios by 50 basis points for all maturities. This step would provide additional liquidity of approximately 1.5 billion dollars to the financial system, the bank said in a statement.
The central bank also lowered bank borrowing limits to 22 billion lira for the Interbank Money Market as of January 11, 2017.
The bank said that it was closely monitoring the excessive volatility in the markets and that additional steps might be taken depending on market developments.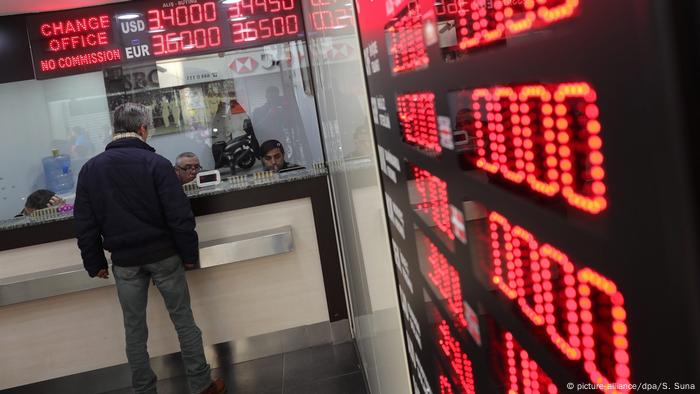 The slide of the Turkish lira is unsettling markets
Rate hike expectations
In November the Turkish central bank raised interest rates for the first time in nearly three years to support the lira, lifting its benchmark rate by 50 basis points. However, this hasn't changed the lira's weakness, but increased pressure to tighten monetary policy further.
President Recep Tayyip Erdogan, who has previously described himself as an "enemy" of interest rates and determined to boost growth, railed against rate hikes, putting pressure on the central bank.
Odeabank economist Sakir Turan told DW that the lira's slide hinges on a rate hike by the central bank. However, avoiding steps to shore up the currency could push inflation to double digits and hamper growth in the coming quarters, he said.
Government suspects operation
The government, meanwhile, seems convinced that the weakening of the lira is due to a currency market operation.
Deputy Prime Minister Nurettin Canikli said with regard to Moody's banking sector report that "it doesn't have a rational foundation. If it's not rational, then it's subjective; in fact, it was an attack."
Ratings agency Moody's said on January 9 that Turkish bank profits will be hit significantly this year by increased non-performing loans, and it warned of a "general worsening" in the investment climate in the country.
Cemil Ertem, an adviser to President Erdogan, told Anatolia Agency that "demand for foreign exchange is shallow, speculative and stems from abroad. There is an operation in place for the lira to lose value."
'Perception of crisis'
Turkey's private sector is worried about a weakening lira and sees it as the biggest obstacle to investment.
Hikmet Tanriverdi, President of the Istanbul Textile and Apparel Exporters Association, told DW that Turkish companies with debts in foreign currency are suffering large losses.
"Foreign exchange volatility in Turkey creates the perception of a crisis in society and the business world. Therefore, new investments are being postponed and consumption will fall. Nobody wants to do anything without clarity," said Tanriverdi, adding that the rating of companies, which fail to repay debts, are being downgraded, hampering their financing options.
Tanriverdi also said that if the lira continues to slide this could lead to a rise in prices.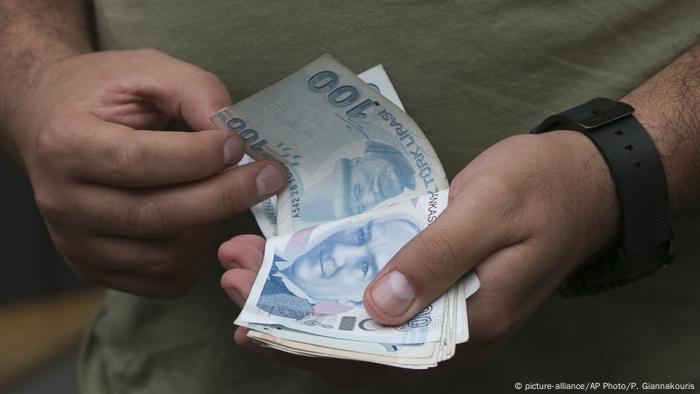 Turkish consumers could soon be faced with the specter of inflation
Executive decrees create tensions
The Turkish business community also faces pressure due to increasing political uncertainties following the July 15 coup attempt. Ali Kibar, Chairman of Kibar Holding, which had seven billion dollars in revenue in 2016, and which has been carmaker Hyundai's partnering company in Turkey for more than 20 years, told DW that executive decrees may have played a role in the lira's slide since they had an impact on legislation affecting companies.
The Turkish government detained businessmen and seized assets in the post-coup crackdown after President Erdogan vowed to choke off businesses linked to U.S.-based Muslim cleric Fethullah Gulen, whom he blames for the July 15 coup attempt. Gulen has denied any links.
"Even after the state of emergency is over, there will be uncertainty about what will happen to these seizures and to the appointed administrators of these companies. This is a problem for companies. Constitutional changes are being discussed in parliament and that's another crucial issue. We need an environment of trust immediately," Kibar said.
Turkey's parliament voted Tuesday to press on with debate about a constitutional reform package that would expand the powers of President Erdogan, which is another step towards an executive system that opponents fear could fuel authoritarianism.
Some 120,000 people have been suspended or dismissed since the coup attempt, although some of them have since been restored to their jobs. More than 41,000 have been jailed pending trial out of 100,000 who have faced investigation.