Facebook has said that it will inform users on Monday if their information was harvested by the data research firm Cambridge Analytica. The move comes as authorities in the US and the UK are scrutinizing the social media giant over user privacy.
Of the at least 87 million users affected by the scandal, more than 70 million are in the US, and there are more than a million each in the UK, Indonesia, and the Philippines.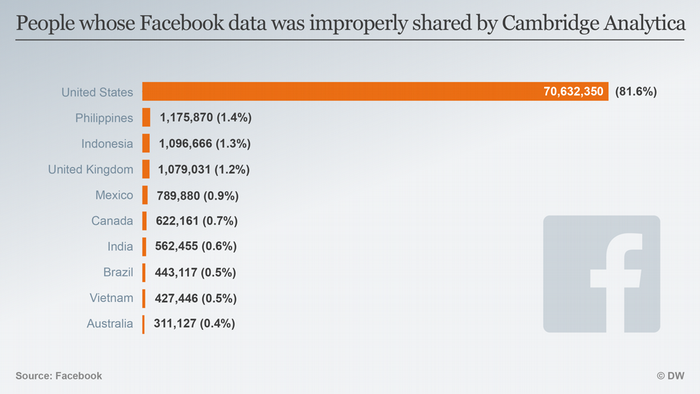 The firm is also set to put out a notice on privacy protection to all its 2.2 billion users, which will show individuals what apps are linked to their account and what information has been shared with those apps. The user will then be able to turn off third-party apps individually or altogether.
Privacy in the spotlight
Facebook has come under fire after whistleblower Christopher Wylie revealed that the London-based Cambridge Analytica had collected tens of millions of users' information without their consent.
Founded in 2013, Cambridge Analytica has bragged that its data mining can help campaigns win elections — and its services have been used in some 200 elections around the world, including the 2016 campaign of US President Donald Trump.
In March, Wylie, a co-founder of the firm, told the press that Cambridge Analytica collected much of its data via a personality quiz that was published on Facebook. Later it emerged that the company had not only harvested the data of just the users who took the quiz, but of all of their contacts as well.
On Sunday, Wylie said that he had agreed to cooperate with a US Department of Justice in its investigation into the scandal. Facebook CEO Mark Zuckerberg has said that he will testify before the US Congress, but has thus far refused requests to speak to a UK parliamentary inquiry.
Each evening at 1830 UTC, DW's editors send out a selection of the day's hard news and quality feature journalism. You can sign up to receive it directly here.