Atop a golden Berlin skyscraper, giant white letters used to spell the name of one of Germany's most powerful media companies.
AXEL SPRINGER VERLAG, or Axel Springer Publishing, they read until they came down last September, when the company shortened its name to Axel Springer.
The letters have been replaced by Europe's largest electronic billboard, which will display news taken from Springer's empire of newspapers and magazines that has been largely focussed on print products such as the country's biggest-selling newspaper, Bild.
Moving pictures can also be shown on the billboard. But they're unlikely to come from the company's own TV channels as Springer's plans to buy Germany's largest private broadcaster, ProSiebenSat.1, seem set for failure.
After months of negotiations with Germany medial control and antitrust authorities, Springer officials announced Monday that they had withdrawn an offer to sell the ProSieben channel if they are allowed to keep three others that belong to the group -- Sat.1, Kabel1 and N24.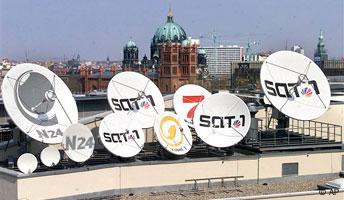 Soon to be installed atop Springer's skyscraper?
The Federal Cartel Office, which is due to announce its final decision on the takeover by the end of the week, had signalled support for such a compromise, but Springer said they were legal impediments to pursue this option.
Germany's so-called Commission to Investigate Media Concentration (KEK) had already vetoed the original merger plans last week, saying that the company would hold too large a share of the market.
No need for change?
Some experts said the rejection showed that Germany's monopoly control mechanisms were working.
"We applaud the fact that the original proposal was rejected," said Hendrik Zörner, the spokesman of the German Journalists' Association, adding that it remained to be seen whether the cartel office's final decision would be made with press pluralism in mind.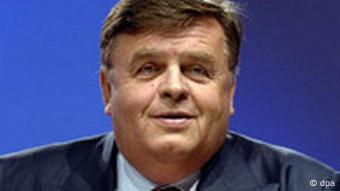 Under Thoma, RTL became Germany's most successful private TV channel
Others, however, called Springer's compromise proposal an "act of desperation" and urged a general review of control mechanisms to allow German media companies to expand domestically and prevent foreign firms without any media background from coming in.
"What happened here is ridiculous," said Helmut Thoma, the former head of Germany's other big private broadcaster, RTL. He added that current rules made it virtually impossible for German media companies to get a takeover approved.
Keeping Berlusconi, Murdoch away
This would lead to takeovers by private equity firms or by people such as Italian prime minister and media mogul Silvio Berlusconi and Rupert Murdoch, the Australian owner of a media empire that includes London's The Times, FOX Television and Sky Broadcasting, Thoma said.
Others agreed that German control boards should start thinking about the larger ramifications of their decisions while still ensuring a pluralistic media landscape.
"We should use this example to revisit the German procedures and see whether we would not need a more liberal approach," said Jo Groebel, the director general of the European Institute for the Media in Dortmund, who also served as a media expert for former Chancellor Gerhard Schröder.
Caution grounded in history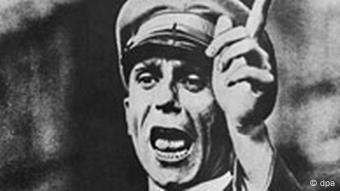 Nazi Propaganda Minister Joseph Goebbels had complete control over the media
Groebel added that Germany has particularly strong controls on media concentration as a result of its experience before and during the Nazi period, when the powerful Hugenberg publishing empire helped bring the Nazis to power, resulting in a state monopoly on the media.
But 60 years after the end of World War II, both KEK and cartel office should consider several factors in making their decisions about mergers: The market share of companies on a global rather than just a national level; traditional media companies versus private equity firms and other companies solely focussed on profit; and the continuing expansion of the media world beyond the traditional sectors of print, radio and television.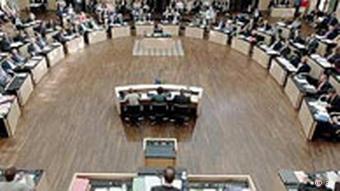 German states, represented in the upper house, the Bundesrat, should make the first move
"One should politically revisit this whole procedure," Groebel said, a sentiment echoed by the media policy spokesman of Germany's ruling Christian Democrats.
"I think it's appropriate to review our control and security mechanisms," said Wolfgang Börnsen, a member of the federal parliament. But he added that since Germany's states were in charge of media policy, it was up to them to initiate this.
There's a good chance it will happen: Several leading state politicians have sharply criticized the KEK's rejection of the Springer deal.