The decision by the so-called Commission to Investigate Media Concentration (KEK) came shortly after reports that Germany's antitrust office, the Federal Cartel Office, is also likely to reject the 3.5-billion-euro ($4.32-billion) merger. An official decision of the latter is expected by the end of next week.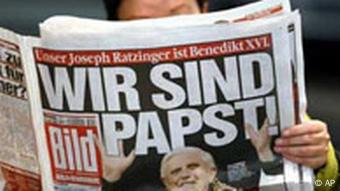 "We are pope" was the headline in Bild when German-born Benedict XVI was elected
Springer's media empire is currently largely focussed on the print sector, the mass-circulation Bild tabloid with roughly 12 million readers being its crown jewel. Last August, Springer announced that it had agreed to buy ProSiebenSat.1 -- Germany's largest private television group -- from a group of US investors.
KEK officials said the merger would bring together too many different media under one roof, resulting in a "dominant power of opinion" for the newly formed company.
The cartel office has voiced concerns about the effects the takeover would have on the advertising market for both the television and print market. It has given Springer until Thursday to come up with a new proposal.
Springer defends deal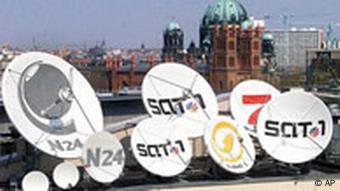 ProSiebenSat.1 satellite dishes in Berlin
If Springer holds on to Bild, it is -- under federal anti-monopoly rules -- not allowed to own one of the main ProSiebenSat.1 television channels -- either Sat.1 or ProSieben -- which would devalue the worth of any deal.
Springer CEO Matthias Döpfner on Tuesday meanwhile defended the proposed takeover, saying that the control bodies were overlooking global and digital shifts in the media world.
He added that the company would look for other ventures outside Germany if the deal is rejected.
"We will take that and try our luck in the digital markets and abroad," he said, according to the AP news service.
Bringing in a partner?
According to a report in the Süddeutsche Zeitung newspaper, Springer is also contemplating bringing in SBS Broadcasting, which owns private commercial television and radio stations in western and central Europe. SBS could then buy ProSieben or Sat.1 to win approval from the deal. Springer officials declined to comment on the report.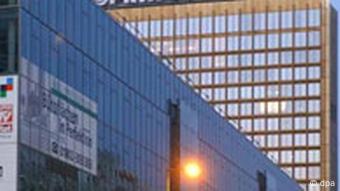 Springer headquarters in Berlin
The KEK's decision is not final, however, as Springer officials can still call on Germany's state media boards, who could overturn the rejection of the deal.
But Jörg Tauss, the media policy expert for Germany's Social Democrats in parliament, called on the directors of state media boards not to take such a step. He welcomed the KEK decision, saying that it guaranteed media diversity in Germany.