Cecilia Malmstroem wrote a guest column for the Monday edition of the Frankfurter Rundschau daily, saying the EU must act to limit the number of deaths from gun violence.
The EU's home affairs commissioner wrote that one problem with the open-border bloc was "the danger that criminals try to get hold of their guns in the countries with the most lax laws" on gun ownership.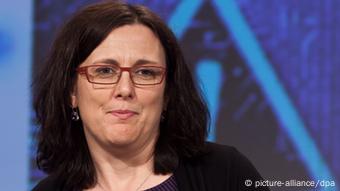 Malmstroem's comments preceded a Monday meeting on the matter in Luxembourg
Malmstroem therefore proposed that the European Commission should examine "whether it's possible for all of Europe to legally decide which weapons should be permitted for civilian usage, and who should be granted permission to acquire a firearm."
The European Commission has pledged a report on firearms and internal security, with the German daily Die Welt reporting on Monday that it had obtained a copy. Malmstroem was due to present the findings to EU interior ministers in Luxembourg on Monday.
The report estimates there to be around 80 million legally-purchased and licensed firearms in the European Union - and a further 500,000 that are lost, stolen, or otherwise unaccounted for. Many of these are thought to be circulating on the black market.
The annual Small Arms Survey report in 2007 sought to estimate gun ownership per capita around the world. According to these results, Germany had 30.3 registered firearms for every 100 inhabitants – putting it above average in European Union terms, but behind countries like Finland (45.3), Cyprus (36.4) and Sweden (31.6). The US topped the global list by a considerable margin, averaging just under one gun per person, according to the research institute based in Switzerland.
Rule changes reportedly under European Commission consideration include revising which guns are eligible for home ownership, tighter regulations for the sale and ownership of antique weapons and air rifles or air pistols, and a possible ban on selling weapons or ammunition on the Internet.
msh/jm (AFP, dpa)