Political observers in Europe said they were hoping that a decisive advance by Democrats in the US election could usher in a new era in trans-Atlantic cooperation.
Many of those who saw US President George W. Bush get a bloody nose in these elections expect US lawmakers to take a good hard look at US policy in Iraq, first and foremost.
"Europeans would expect some change in policy and possibly also personnel," said Antonio Missiroli, Chief Political Analyst of the European Policy Centre in Brussels. "It is not to be ruled out that … (US Secretary of Defense Donald) Rumsfeld might go. And I suppose most Europeans might welcome a new face and a turning of the page on Iraq and the wider Middle East."
'End of a nightmare'
The Bush administration was widely seen to have alienated Europe and much of the rest of the world by its "with us or against us" approach to Iraq, alleged human rights abuses at Guantanamo Bay prison, and its stance on ecological issues – particularly its refusal to sign the Kyoto Protocol on global warming.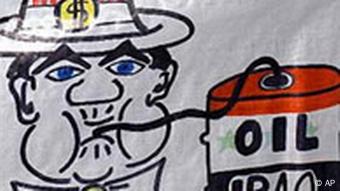 Anti-US sentiment is openly, and frequently, expressed in Europe
Now, it seems Bush's bill has come due, and Europeans are openly happy about it.
"There is less White House in America now and a little less America in the world," Dominique Moisi, special councillor at the French Institute of International Relations, told Reuters news service.
"The demise of (Bush's) America is good news for all those who love America," he added.
The Socialist Group in the European Parliament, the second-largest bloc following the conservative grouping, hailed the election result, saying Bush had been "seriously weakened."
"We are relieved that we now see the beginning of the end of a six-year nightmare for the world," said Martin Schulz, the president of the 201-strong Socialist Group.
Slow change is likely
Many analysts did not expect Democrats to change things too quickly in Iraq, however.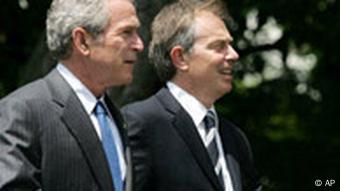 Britain's Tony Blair was one of few European leaders to stand behind Bush
"The Democrats will make life unpleasant for Bush, but they are not going to get much in his way because they don't want to be tarred by defeat in Iraq," Francois Heisbourg, a special councillor at the Foundation for Strategic Research in Paris told Reuters.
Trade talks may sour
Observers also worried that trade negotiations currently underway between the US and the European Union could take a hit, post-election.
"The democratic Congress would probably be marginally more protectionist than the current one and this would not bode well for the current negotiations in the WTO framework, considering in particular that the 'fast track' mandate for the Bush administration for striking a deal expires in July 2007," the European Policy Center's Missiroli said.
Bush's "fast track" negotiating power allows him to authorize trade deals.
Even Britain is glad
But such policy concerns did not dampen broad satisfaction in many European capitals, amid continued growing unhappiness over U.S. leadership.
Even people in Washington's closest European ally, Britain, appeared glad to see Bush lose his majority in Congress.
"He's not the leader he was. He doesn't seem to be making the decisions, there seems to be no sense to what he is doing anymore," John Hayward, a logistics manager in London, told Reuters.