EU foreign policy chief Javier Solana added that the EU would support efforts by the Organization for Security and Cooperation in Europe (OSCE) to help restore calm in the former Soviet republic.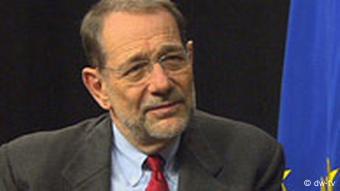 Javier Solana
Solana "strongly appealed to the people of Kyrgyzstan to behave responsibly, to ease restoration of law and order throughout the country and to refrain from violence and looting," said a statement issued by his office.
"The EU will continue to support the efforts of the OSCE mission in Bishkek," it added.
Russia: OSCE helped trigger unrest
Kyrgyzstan's new leaders cemented their grip on power Friday, naming an acting head of state and top ministers and announcing fresh presidential polls while seeking to restore calm and reassure allies.
The uprising follows similar popular revolutions in Georgia in November 2003 and Ukraine late last year.
On Friday, Russia charged that election monitoring by the OSCE had contributed to the uprising by helping trigger political dissent. Alexei Borodavkin, Russian ambassador to the OSCE, told AFP that an OSCE report on legislative elections in Kyrgyzstan in February and March had "to some extent, triggered the unrest" in the former Soviet bloc state.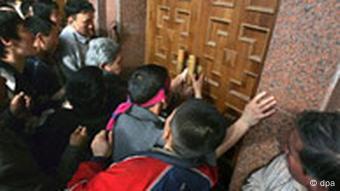 Members of Kyrgyz opposition storm the government building in Bishkek, Kyrgyzstan, Thursday 24 March 2005. According to the information from Kyrgyz opposition president Askar Akayev is not in power any more. EPA/YURI KOCHETKOV +++(c) dpa - Report+++
Monitors from the 55-nation OSCE, which extends from North America through Europe and into Central Asia, said that legislative elections in Kyrgyzstan on Feb. 27 and March 13 had failed to live up to democratic norms.
Russian Foreign Minister Sergei Lavrov had Thursday called on the OSCE to behave "responsibly" in the crisis in Kyrgyzstan, where protestors overran the main seat of government.
"We count that international organizations, including the OSCE, will conduct themselves responsibly because too much depended on how these organizations assessed the events around the elections," Lavrov said.
EU presidency calls for calm
As gunshots were heard in Bishkek after dark Friday, the EU's current Luxembourg presidency also called for calm.
The EU "makes a strong appeal to the newly nominated leaders to restore public order as quickly as possible, to begin dialogue with all political forces and to implement a policy of national reconciliation," it said.
The 25-member bloc "is ready to cooperate" with the new Kyrgyz leaders, it added, while also urging them to "take all measures necessary to guarantee security and stability in the country."
"The European Union actively encourages the new Kyrgyz leaders to act in full respect of the values of democracy and human rights," it added.