French film "The Artist" was tapped 10 times in the Oscar nominations, which were announced in Los Angeles on Tuesday, including for best picture.

Martin Scorsese's "Hugo," also up for best picture, was the only film that garnered more nominations, with 11.
"Hugo," Scorsese's first 3-D film, tells the fantastic adventure of a boy in 1930s Paris. Co-produced by companies owned by Johnny Depp and Graham King, the children's film received wide critical acclaim.
Steven Spielberg's World War I epic "War Horse" - set in England - and "Moneyball," a sports drama starring Brad Pitt, each received six nominations, and are in the running for best picture as well.
"The Girl with the Dragon Tattoo" came in with five nominations. The film is an English-language adaptation of a Swedish book by author Sieg Larsson detailing the attempt by a disgraced journalist and an eccentric computer hacker to solve a murder from 40 years ago.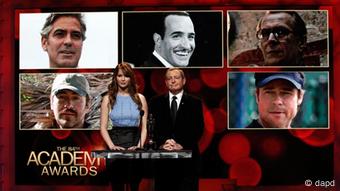 Dujardin (upper middle) is up against George Clooney and Brad Pitt for best actor
Jean Dujardin is up for leading actor in "The Artist," as a silent film star clinging to waning fame when talkies come on the scene in the late 1920s. Berenice Bejo, also from France, received a nomination for supporting actress, as a rising talkies star who gets involved with Dujardin.
Dujardin is competing against Brad Pitt for his role in "Moneyball," and against George Clooney in "The Descendents," a comedy-drama about a man trying to reconnect with his two daughters when his wife enters a coma after a boating accident. "The Descendents" garnered four other nominations, including best picture.
Wim Wenders, German students compete for gold
Acclaimed German filmmaker Wim Wenders is in the running for best documentary, with an Oscar nomination for his 3-D dance film "Pina" about dance legend Pina Bausch.
"Raju," produced by the Hamburg Media School in 2010, was nominated for a short film Oscar. The school, based in the northern German city, cooperated with Roopkala Kendro, a film school in Calcutta, on the 24-minute movie about child trafficking in India.
Hailing from Northern Ireland, "Pentecost" - about a young football fan's being called to mass during an important match, set in 1970s Ireland - is up for best live action short film.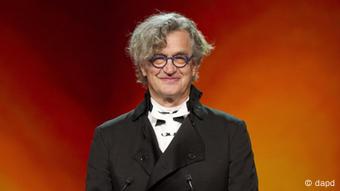 Despite winning numerous other honors, Wenders has never won an Oscar
British actress Janet McTeer was shortlisted for best supporting actress for "Albert Nobbs," a movie directed by and starring Glenn Close, who gets stuck in her identity as a man in 19th century Ireland.
Supporting actor nominations include Kenneth Branagh for his role in "My Week with Marilyn," portraying the tension between Laurence Olivier and the American icon.
Swedish actor Max von Sydow also received a nod for supporting actor in "Extremely Loud & Incredibly Close," which follows a boy seeking the lock for a key from his father, who died in the World Trade Center on September 11, 2001.
For best foreign film, Belgium production "Bullhead" and Poland's "In Darkness" are both in the running.
The 84th annual Academy Awards are set to take place in Hollywood at the end of February.
Author: Sonya Angelica Diehn
Editor: Nancy Isenson