At the end of April, a good six weeks before the start of Euro 2012, fans of the Polish premiere club Lech Poznan experienced a shock. For the cup match with Legia Warsaw, the authorities issued a ban for guest fans. The reason: fear of violence. The decision wasn't reversed until the last minute, after fans from both clubs wrote promises to behave responsibly.

"The declarations convinced me. It's something new and we can't afford to miss this opportunity," said the acting administrator Jacek Kozlowski afterwards.

Anti-hooligan pact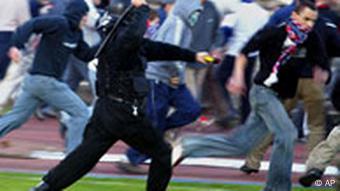 Soccer hooliganism has long been a problem in Poland
Only a year ago, another game between the two teams made headlines across Europe. That time, the Polish cup final match ended in violence. Hooligans - fans from both sides - stormed the pitch. They hit one another and trashed the stadium, all under the watchful eyes of UEFA observers. A police force armed with water canons and rubber bullets eventually put a stop to the chaos.

"The Polish will take action," said a UEFA representative, after the European Football Union raised the alarm.

And indeed they did. Together with the Polish Soccer Association PZPN, President Donald Tusk's government devised an anti-hooligan pact. It was a catalogue of measures to minimize the risk of violence in stadiums. Over the last few months, rigorous laws aimed at the Euro 2012 have also been introduced. Stadium bans for hooligans have been extended and the purchasing of tickets for the games is only possible with a so-called "fan card" containing biometric data. Stadiums are equipped with the latest entry control systems with video surveillance. Hundreds of police and security officers will monitor every game.

No fans, no soccer

"Guantanamo" is what the fans call the Euro 2012 arena in Warsaw, opened two years ago as the new stadium for Legia Warsaw. Some are disappointed that they weren't contacted before. Associations of fans have voiced their criticism, saying that the situation can only be improved through dialogue with the fans. When it comes to violent hooliganism, soccer clubs and fan associations agree on a zero-tolerance policy. But personal responsibility is favored above all. Normal fans simply want to enjoy the soccer games. And there are also many who have long been involved in social projects which aim to banish violence from stadiums.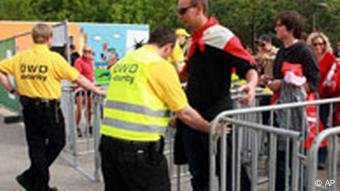 Security controls at stadiums in Poland will be tight
In the context of preparations for Euro 2012, more projects like this have been introduced at soccer clubs such as Lechia Gdansk, Slask Wroclaw and Polonia Warsaw - with success. While at the old stadium in Gdansk games would be played before a crowd of just 7,000 fans, 35,000 came to last year's opening match in the new arena. And things have remained peaceful. A number of ultras (extremist hooligans) have realized that it is better to participate than to go on the rampage. Whoever riots will have to stay away, and without fans there will be no soccer - it's that simple.

"Hooligans are now the minority in Poland," said Dariusz Lapinski, the fan representative for the state organizational office PL.2012.

Maximum security

At Euro 2012, it's not only the ultras who will be in the authorities' sights.

"The police are prepared to secure every game," explained Poland's Interior Minister Jacek Cichocki. More than 9,000 police officers will be present in Euro 2012 cities. But the entire Polish police force will be on high alert during the championship. A ban on officers taking holiday during this period has been implemented. Aside from that, border controls and anti-terrorist units are already in place. The security forces are armed for any eventuality, from assassination attempts to flooding.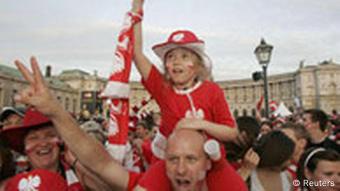 UEFA is hoping that Euro 2012 will be a fun event for families and fans alike
Stadiums are also prepared. All entrances have been secured with man-sized double-turnstiles and electronic card readers. A fan verification system has also been developed. It makes it possible to lock unwelcome fans out of the stadium. In addition, no alcohol or cigarettes will be present at match sites. UEFA has declared Euro 2012 a tobacco-free zone, and the Polish parliament added a ban on alcohol to go with - without exception. In emergencies, officials promise that full capacity stadiums in Warsaw can be evacuated within seven minutes.

It all sounds secure - aside from a few recent surprises. The Polish supervisory authority (NIK) announced a few weeks ago that there is still no detailed database for foreign hooligans who have been banned from stadiums in their home countries.

"This could hinder the work of the police in securing the stadiums and the cities," warned NIK boss Jacek Jezierski.

But experts are confident violence will be kept out of the stadiums, not only during Euro 2012 but also in the ultra modern stadiums after the championship.

"People behave differently in civilized places, they assimilate to their surroundings and become civilized," suggested a commentator in Gdansk's Sporting Facts newspaper.

Author: Elzbieta Stasik / hw
Editor: Greg Wiser