On Thursday, about a dozen gunmen connected to Palestinian leader Mahmoud Abbas' Fatah Party surrounded the EU Commission's office in Gaza City. They demanded that the governments of Denmark, France, Germany and Norway apologize for cartoons of Mohammed published in newspapers in those countries.
Armed Palestinians also threatened a "tough response" for further reprints of the cartoons in front of the French cultural center.
Despite the threats, EU officials said they were not going to suspend aid -- at least for now.
"If the situation gets more complicated then obviously for us it will not be easy to deal with it," European Commission spokeswoman Emma Udwin said, according to AP news service.
Parliamentarians vote for aid under conditions
European lawmakers meanwhile voted on Thursday to continue aid payments to Palestinians as long as a future government led by radical Islamist group Hamas, the winner of last month's parliamentary elections, renounces violence and seeks peace with Israel.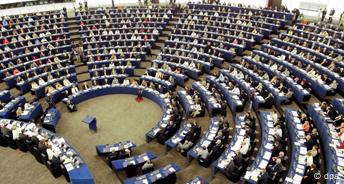 General view of the European Parliament in Strasbourg
In a resolution, members of the European parliament, who have to approve any aid payments, said the EU should remain the biggest donor to the Palestinian territories. The bloc currently donates 500 million euros ($605 million) annually.
Parliamentarians agreed that future aid "will be dependent on the new government's clarification on denouncing violence and recognizing Israel," an approach mirrored by the bloc's foreign ministers, who adopted a similar policy at a meeting on Monday.
According to Reuters news service, deputies also urged the Middle East Quartet -- the United Nations, United States, European Union and Russia -- to take a "strong and urgent initiative" to promote negotiations between Palestinians and Israelis.
Hamas has been placed on an EU list of banned terrorist groups; it has carried out almost 60 suicide bombings over the last six years.
Palestinian calls to work with Hamas
EU parliamentarians also said that the faction's election victory was the result of a desire for reforms and dissatisfaction among the Palestinian population with the previous government.
The Palestinian authority's representative to the EU, Leila Shahid, meanwhile told parliamentarians on Wednesday that the western world would make a mistake if it did not recognize a Hamas-led government.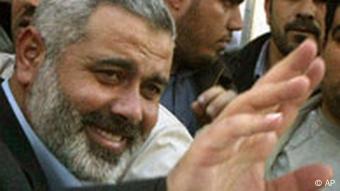 Should the EU cooperate with Hamas leader Ismail Haniyeh?
"If you reject Hamas, it would be perceived in the region as rejection of democratic principles," she told a conference in the European Parliament in Brussels, according to online news site EUobserver.

"The EU must not allow the result of the election to conceal the fantastic performance that the election was. It was transparent and in respect of pluralism, and that in a society where pluralism has been condemned. If you create unity with Hamas -- not against -- this can be positive. The EU can impose conditionality in such a relationship."