Hundreds of thousands of people took part in mass protests, dubbed the "Day of Departure" demonstrations on Friday to force Egyptian President Hosni Mubarak to quit.
Protesters, who were continuing their rally on Saturday morning, have vowed to keep up their demonstrations until Mubarak resigns. The president has said he plans to remain in power until September, claiming that his sudden departure could exacerbate the chaos that currently engulfs Egypt.
At least 13 people have been reported killed in the past two days of violence. Egypt's health ministry said on Friday that at least 5,000 others have been injured since the unrest began last week.
Embattled Mubarak said in an interview with US network ABC on Thursday that he was "fed up" with ruling Egypt, but feared the consequences of leaving office.
"After 62 year in public service, I have had enough. I want to go," he said. "I don't care what people say about me. Right now, I care about my country, I care about Egypt." "If I resign today, there will be chaos," he added.
Meanwhile the US is said to be discussing various scenarios with the Egyptian regime for a swift transition of power, including Mubarak's immediate departure.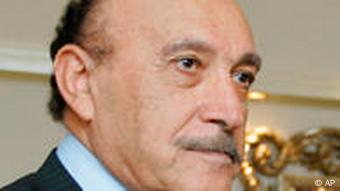 Suleiman became Mubarak's first-ever deputy
"We have discussed with the Egyptians a variety of different ways to move that process forward, but all of those decisions must be made by the Egyptian people," Tommy Vietor, spokesman for the White House National Security Council, said.
The New York Times reported that one such proposal would see power being handed over to a transitional government backed by the military and headed by Vice President Omar Suleiman.
The US newspaper also reported that a scenario calling for Mubarak to travel to Germany, where in the past he has had medical checkups, was under discussion.
The Egyptian secretary-general of the Arab League, Amr Moussa, has said he would consider running for the presidency. "I'm at the disposal of my country of course. But we will see the political developments," he told a French radio network. He added that he didn't expect Mubarak to step down immediately. "I don't think he will leave. I think he will stay until the end of August."
International concern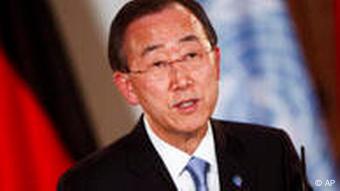 UN chief Ban Ki-moon has urged an orderly transition of power
Germany has called in Egypt's ambassador to protest against the violent treatment of peaceful demonstrators and foreign journalists. A foreign ministry spokesman said "attacks on German citizens and foreign journalists are not acceptable."
EU leaders meeting in Brussels issued a joint statement urging the authorities to meet the people's aspirations with "reform, not repression," and called for an immediate transfer of power. "All parties should show restraint and avoid further violence and begin an orderly transition to a broad-based government. The European Council underlined that this transition process must start now."
UN chief Ban Ki-moon also called for an "orderly and peaceful" transition of power in Egypt. In an interview with the German news agency dpa, he said the UN had warned the Arab world for years about its democratic deficits. The unrest, he said, was the "expression of such frustrations from the lack of freedom."
Author: Rob Mudge (dpa, AFP, Reuters)
Editor: Andreas Illmer