You have to hand it to the English football writers - they're consistently fickle.
The day after Arsenal beat Liverpool 4-1 in the weekend's most eagerly anticipated Premier League match, everyone was singing the praises of playmaker Mesut Özil. The World Cup winner sparked the Gunners' first goal with an elegant pass and scored the second with a perfect free kick.
Imperious, wonderful and inspired were the adjectives used by "The Daily Telegraph." "The Guardian" chimed in with sublime, calculated and beautiful. But perhaps the most revealing comment, if unintentionally so, came from "The Daily Mail."
"In Mesut Ozil [sic] Arsenal have one of the most sublime performers," wrote journalist Rob Draper. "At least they do when he when he plays like this."
In other words, Özil is really good when he plays really well. That's not only a tautology, but a very drastic change in tune for the Mail, for which Neil Ashton wrote at roughly this time last year: "Lost and lazy Ozil [sic] might have cost Arsenal 42.5 million pounds, but he isn't worth two bob and he's nicking a living."
That was one of the most extreme examples of the sort of criticism that Özil has received from the umlaut-shy English press since arriving as Arsenal's most expensive-ever transfer in 2013. The question is: why?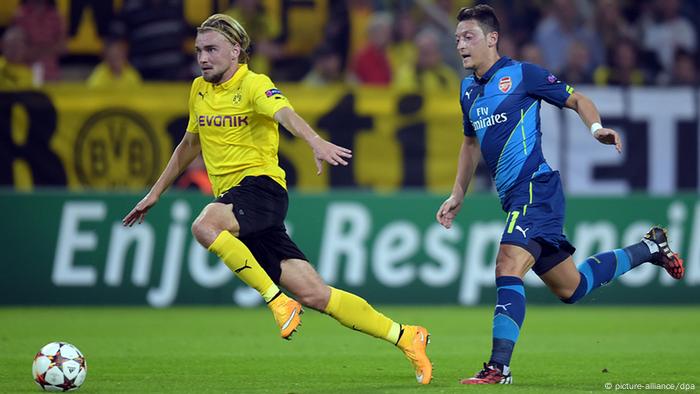 The international press has often found Mesut Özil wanting
Two myths about Mesut
There are two big knocks against the playmaker. The first is that he's lazy, an impression that is conclusively disproven by the statistics. In fact as various sources have documented, Özil usually leads the Gunners in distance covered in losses as well as in wins, and his kilometers per game ratio compares quite well with the Premier League average for offensive-midfielders.
So how did he get a reputation for not putting in a shift? Some say it's because of the languid way Özil runs, others contend that since Özil is a player who does need the ball much, a lot of his running goes unnoticed. Whatever the reason, the lazy tag doesn't stick.
The other major criticism of Özil is that he disappears in big games. One of the main authors of this idea was former Liverpool midfielder Jamie Carragher, who at the start of this season claimed that Gunners coach Arsene Wenger "didn't trust" the German in the middle of the pitch for really important matches. Carragher's remarks were gleefully picked up by "The Mirror," and "The Independent" took much the same tack last February, blaming the German for Arsenal's 3-1 loss to Monaco in the Champions League in what was a horrible team effort.
After the victory over Liverpool, which was Arsenal's seventh in a row in the Premiership and which gives the Gunners an inside track on Champions League qualification, the storyline is that Özil can in fact come up with the goods in big matches. Ninety minutes, it seems, is all it takes to go from Cowardly Lion to the Wizard of Öz.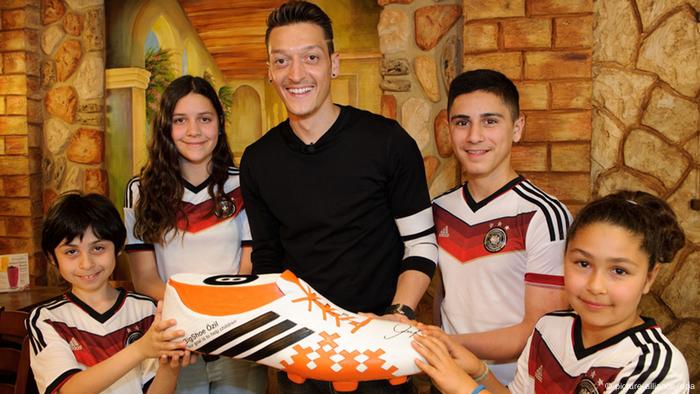 Özil donated all of his World Cup prize money to help needy people in Brazil
The invisible world champion
Even in his native Germany, Özil comes in for arguably more than his fair share of criticism. The midfielder featured in all of Germany's 2014 World Cup matches and logged 654 minutes as Die Mannschaft took the title. He created the same number of chances as Thomas Müller and Arjen Robben.
Nonetheless, there was a perception in Germany that the playmaker wasn't pulling his weight - probably because he only scored one goal in the tournament. Özil is not a prolific goal scorer, as even his staunchest defenders (see Wenger, Arsene) would admit. But he was a crucial element in a World Cup winner squad whose hallmark was solidity, not superlatives.
Germany's World Cup win made heroes of a number of players. Not so Özil, who was unjustly perceived to have been merely along for the ride. Part of his perception problem is undoubtedly down to the fact that he shuns the limelight. Even in his native Germany, Özil's demeanor when giving interviews suggests that answering questions ranks somewhere behind non-anaesthetized self-dentistry on his list of favorite pastimes.
That's unlikely to change, so it's improbable that Özil will ever become a fan favorite on the strength of personality alone. On the other hand, the surest way to supporters hearts are results. And if the Gunners keep up their current form, qualify for the Champions and defend their FA Cup title, Özil could finally be given a bit more credit abroad and at home.