France's largest-ever corporate corruption trial resumed in Paris this week with more drama than your average Mexican soap opera.
The case offered further tales of illicit backroom dealing, a €5 million divorce settlement tab picked up by French taxpayers and allegations that a former French prime minister accepted bribes in connection with a string of acquisitions made by the state-owned French oil conglomerate Elf Aquitane in the '80s and '90s.
Some of the case's most piquant charges relate to the sale of the formerly state-owned Leuna oil refinery in eastern Germany to Elf Acquitane in 1992. Elf executives stand accused of offering payoffs and bribes to leading German politicians.
Ministers and a prime minister
Former Elf General Affairs Manager Alfred Sirven, a key defendant in the case, told the court on Monday the company paid off two former German minister-level officials as well as a company owned by former French Prime Minister Edith Cresson in order to help secure the purchase of the refinery in 1992. That year, Elf purchased both the refinery in the state of Saxony-Anhalt as well as the Minol gas station chain.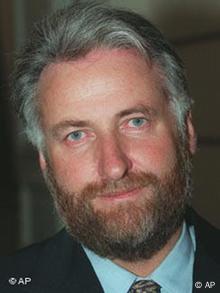 FILE--A March 4, 1996 file photo of Loik Le Floch-Prigent, president and general manager of the French National Railroad (SNCF) who was placed under formal investigation late Thursday July 4, 1996 for fraud and receiving stolen assets. Authorities announced Friday July 5 that Le Floch-Prigent was arrested on charges that he misused funds while he headed the state-owned oil company Elf. (AP Photo/Lionel Cironneau/fls)
Sirven has accused Loik Le Floch-Prigen (photo), the former head of Elf Aquitaine, of ordering him to pay bribes to companies and politicians throughout the 1980s and 1990s. "I paid German personalities and French ones too, and I was acting on the instructions of Loik Le Floch-Prigent. There were two former German ministers and the company Sisie (owned by Cresson)."
A well-oiled bribery machine
Judges hearing the case allege that Elf executives paid close to 270 million francs (€41.16 million) in order to secure the purchase of the refinery and service stations. If the case can be proven, it will be the largest case of documented corporate corruption in French history.
During his testimony on Monday, Le Floch-Prigen said Elf Aquitaine fell into a difficult period at the time of the Leuna acquisition. Business took a turn for the worse when Shell suddenly pulled out of the deal one month before it was suppose to close. At the time, German engineering giant Thyssen was also threatening to pull out. But by that time, negotiations had gone so far that it would have been impossible for Elf Aquitaine to abandon the acquisition without broad and negative repercussions for French-German relations, Le Floch-Prigen said.
Political influence, he concluded, was the company's best chance for saving the complicated deal. For that reason he approved the funding of politicians as well as secret payments to German and French intelligence agents in order to secure the purchase -- a move he said he made on the advice of Sirvan.
The lobbyist and the spy
Le Floch-Prigent has lobbed a number of serious accusations at his former business manager, and this time, as with the others, Sirvan has vehemently denied them. Sirven said he never discussed funneling money to intelligence agencies. He claimed having hired two "middlemen" including German lobbyist Dieter Holzer and former French secret agent Pierre Lethier. After hiding out in Switzerland and Britain, Lethier -- who worked as a secret agent for France's DGSE agency between 1979 and 1997 -- turned himself over to the French authorities last week.
Sirven said Holzer and Lethier had been given approximately €40 million ($44 million) to arrange the deal in Leuna. He alleges they funneled part of the money on to others, including the two German ministers, whom he Sirven has refused to identify but has said received "considerable sums." However, Holzer has consistently denied claims that some of the money went to the Christian Democratic Union, the party of then-German Chancellor Helmut Kohl.
Le Floch-Prigent told the court he was unaware of where the money directed to Holzer and Lethier ultimately landed, but he admitted that he had approved the use of lobbyists. The reason: Elf had previously sought to launch a project in eastern Germany without the help of lobbyists and the initiative failed.
Le Floch-Pringent also leveled another political grenade at the courtroom on Tuesday, admitting that he had used Elf funds -- and, indirectly, taxpayer money -- to pay a divorce settlement with his wife, who he feared would go public with embarrassing revelations about the company. Le Floch-Pringent even offered his resignation to then-French President Francois Mitterand over the divorce, but Mitterand refused, simply telling him to deal with the problem.
Le Floch-Pringent took the former president's words as a license to pay off his wife, Fatima Belaid. His 18-month love affair with Belaid, Le Floch-Pringent told the court, had turned into a "nightmare" with "psychological harassment that was incompatible with the role of company chairman."
A case reaching from Germany to Africa
There are 37 defendants in the trial, which has implicated a broad range of leading politicians and parties -- including French President Jacques Chirac's former Rally for the Republic party and the party of then-German Chancellor Helmut Kohl, the Christian Democratic Union, in the corruption scandal.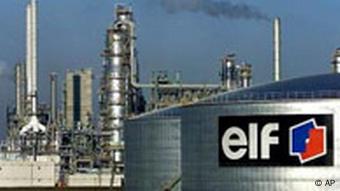 A part of the eastern German oil refinery in Leuna is seen in this Dec. 22, 1999 file picture. Germany's federal prosecutor has concluded there is no evidence that politicians here were bribed in a deal to privatize the former East German oil refinery that has figured in a scandal involving former German Chancellor Helmut Kohl, according to a report Tuesday Dec. 19, 2001. Swiss and French prosecutors suspect bribes were paid in the takeover of Leuna by France's Elf-Aquitaine. (AP Photo/Eckehard Schulz)
The suspects, with close ties to the country's political elite, are said to have been involved in misappropriating at least €183 million ($197 million) to use as bribes to secure Elf business contracts in Africa, South America, Russia, Spain and Germany between 1989 and 1993. Elf executives are also suspected of having embezzled some of the funds.
The trial is one of the first steps in revealing a system that allowed French governments to turn Elf into an extension of the country's foreign-policy machine. At the time of the alleged misconduct, Elf was France's biggest company and controlled by the state.