Ecuador requested an Interpol red notice for ex-President Rafael Correa on Tuesday, hoping to have him extradited from Belgium.
Correa claims the decision to request his detention and extradition from Belgium are part of an attempt by his former ally, the current president Lenin Moreno, to humiliate him and make him suffer.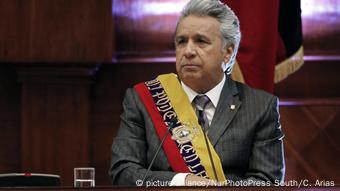 President Lenin Moreno
Correa had been ordered by Ecuadorean Judge Daniella Camacho to present himself before an Ecuadorean court every two weeks as part of the proceedings into the attempted kidnapping in Colombia of former opposition lawmaker Fernando Balda in 2012.
The former premier, whose wife is Belgian, has been living in Belgium since July last year, and has reported to the consulate in Brussels every 15 days starting June 2.
On Tuesday, the judge claimed her orders for Correa to present himself to a court had been violated.
According to a statement on Twitter, the public prosecutor requested the pre-trial detention of Correa for non-compliance. He called for Interpol to be notified through a red alert for Correa's capture and extradition.
Correa denies any involvement in the case or being the author of Balda's kidnapping.
His lawyer Caupolican Ochoa said "This decision is arbitrary, it is a lie, it is defamatory. I do not believe they are seeking justice but rather revenge."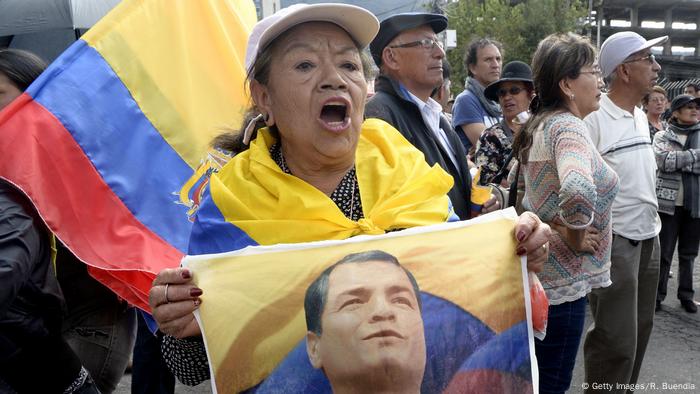 Correa still has some supporters in Quito, including this woman outside the court
Correa wrote on Twitter: "They will seek to humiliate us and make us suffer a tough time, but a monstrosity like this will NEVER prosper in a country like Belgium with rule of law."
President Lenin Moreno is no longer an ally for Correa and has moved to weaken the former president's remaining political influence. Moreno has been reaching out to conservative business leaders who Correa had isolated.
A case of conspiracy against Balda
A former lawmaker with the right-wing opposition Patriotic Society, Balda had been charged with conspiring to overthrow the Correa government in 2010 as part of a failed coup.
Balda was in Colombia at the time and prosecution against him was delayed until 2012 when he was deported back to Ecuador. He faced the conspiracy charges and was sentenced to a year in jail for threatening state security.
In recent weeks, Balda has been calling on authorities to arrest Correa. "This decision by Correa to not respond to the judge's request today makes him a fugitive from justice," Balda said on Tuesday.
jm/aw (AP, EFE, AFP)
Each evening at 1830 UTC, DW's editors send out a selection of the day's hard news and quality feature journalism. You can sign up to receive it directly here.