The World Health Organization (WHO) on Friday said 10 countries, including the Democratic Republic of Congo (DRC) and its neighbors, have been put on high alert after local authorities declared an Ebola outbreak earlier this week.
"We are very concerned, and we are planning for all scenarios, including the worst-case scenario," said WHO emergency response chief Peter Salama in Geneva. Up to 18 people are suspected of dying from infection so far.
Read more: From an Ebola survivor to an Ebola fighter
Salama said that WHO officials are most worried about the spread of Ebola in Congo-Brazzaville and the Central African Republic, since they are both connected to the outbreak area through river systems.
'Highly complex'
He noted that the latest outbreak has occurred in a remote area near Bikoro. But if the virus spreads to Mbandaka, the capital of DRC's Equateur province home to more than one million inhabitants, it could have devastating consequences, he added.
"This is a highly complex, sophisticated operation in one of the most difficult terrains on earth," Salama said. "If we see a town of that size infected with Ebola, then we are going to have a major urban outbreak."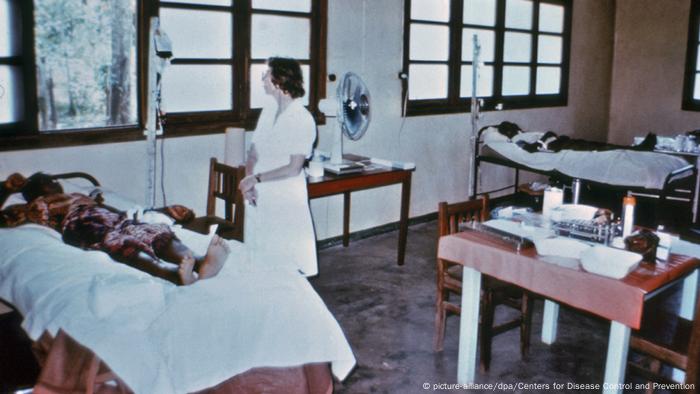 The Ebola virus was first discovered in 1976 in Zaire, which is now known as the Democratic Republic of Congo
Deadly virus
The outbreak is the ninth of its kind since the virus was discovered in then-Zaire in 1976. The WHO is hoping to quickly quarantine the outbreak after it was criticized for its slow response during the 2014 outbreak in West Africa.
More than 11,000 people died as a result of infection during the West Africa outbreak after the virus spread from Guinea to neighboring Liberia and Sierra Leone. Roughly 29,000 cases were registered from March 2014 to March 2016 in what was the largest Ebola outbreak to date.
Read more: The unsung heroes in the fight against Ebola
Ebola is a rare and highly infectious virus, with a death rate of up to 90 percent, according to the WHO. Symptoms include fever, intense weakness and vomiting. The incubation period ranges from two to 21 days.
The WHO said it is ready to deploy an experimental vaccine campaign, but is waiting to receive permission from DRC authorities.
ls/kms (AFP, dpa)
Each evening at 1830 UTC, DW's editors send out a selection of the day's hard news and quality feature journalism. You can sign up to receive it directly here.