Gilles Villeneuve's 27, Dale Earnhardt's 3, Valentino Rossi's 46, or even the 53 adorning Disney's racing VW Beetle, "Herbie." Race numbers can become part of a driver or team's identity, as is already customary in series like NASCAR and MotoGP. For the new season, Formula One is seeking this personal touch instead of its former, rigid numbering system based on the previous year's results.
For the first time, drivers have been asked to choose a permanent, personalized competition number from 2 to 99, with the number 1 reserved as usual for the defending world champion. Despite the flurry of 22 near-simultaneous applications when the system was introduced from scratch over the off-season, most drivers were able to secure their first choice.
Five, or 5, for #1 Vettel
Sebastian Vettel might as well have had an assigned permanent race number in recent years - namely the 1 carried by the reigning world champion. The 26-year-old was assured of his first choice, with any clashes in requests settled on the basis of the 2013 world championship standings.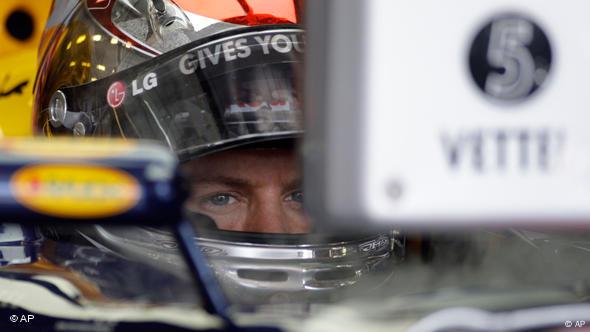 Vettel has used 5 before, for title number 1
Should Vettel fail to win his fifth consecutive title in 2014, which would equal the unique run of five Michael Schumacher put together from 2000 to 2004 with Ferrari, then he will compete in 2015 with the number 5 on his car.
"I chose the number 5 because I won my first ever F1 title [in 2010] with it," Vettel told the Welt am Sonntag newspaper before the season's start. "It's also a very successful number in F1 history, as both Michael Schumacher [1994] and Nigel Mansell [1992] won world titles with the number 5."
The aspiring go-kart racer Vettel would have been seven years old when watching Schumacher's #5 Benetton clinch the world championship, the first ever for a German F1 driver.
Trading on titles
Vettel is by no means the only driver to have made his choice with an eye on his personal past. Jenson Button, the last world champion before four years of Red Bull supremacy, has opted for the same 22 that adorned his title-winning 2009 Brawn GP car.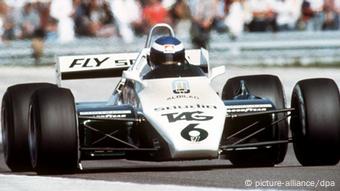 Lucky for father and fiance, Nico Rosberg has picked 6
Mercedes' German hopeful Nico Rosberg has taken "my future wife and my dad's lucky number" - the 6 with which Finnish father Keke won his 1982 championship at Williams. Given Mercedes' apparent pace and reliability in pre-season testing, Nico's chances of emulating Keke have never looked better.
Bookmakers' favorite Lewis Hamilton, in the other Mercedes numbered 44, might have different ideas. Like Williams' Felipe Massa, who has chosen 19, Hamilton picked a preferred plate from his childhood go-karting career. Coincidentally, there's also a multiplying connection to Hamilton's two most successful F1 seasons to date; he debuted in 2007 with number 2 and won the 2008 title wearing 22.
Fernando Alonso's decision dates back to 1996 - when the 14-year-old from Oviedo in Spain won a karting championship on July 14 wearing number 14, subsequently deciding it must be his lucky number.
Tradition-rich 27 for Hülkenberg
Nico Hülkenberg, back with Force India in 2014 after a season away at Sauber, has picked a number steeped more in Formula One's past than in his own. Hülkenberg's 2013 performances "outranked" Toro Rosso's Jean-Eric Vergne, who had also hoped to drive with 27.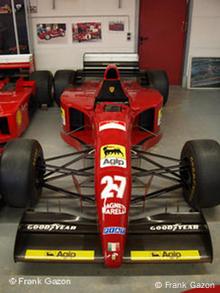 27 always screamed "Ferrari," now it also says "Hülkenberg"
It's hard to shake the feeling that perhaps F1's most accomplished driver never to receive a chance in a top team might be trying to remind Ferrari - and others - of his existence by choosing such distinguished digits.
Canadian charger Gilles Villeneuve's number with Ferrari until his death at Netherlands circuit Zandvoort in 1982, 27 remained synonymous with the "lead" Ferrari car for more than a decade. The only exception to this in the era was in 1990, when Ayrton Senna carried 27 for McLaren and won the world title.
In a fan's subconscious, the 27 might not look out of place near the front and in a shade of scarlet. Yet if Hülkenberg one day manages to put a race win on his F1 stats sheet, it would be the first win for a #27 car since Jean Alesi's Ferrari back in 1995, rather fittingly at the Gilles Villeneuve Circuit in Montreal.
Ferarri returnee Kimi Raikkonen also won a clash to secure number 7, beating out French debutant Jules Bianchi, who had to settle for 17 instead. Raikkonen's justification was typically straightforward, by coincidence under the previous numbering system, he raced with 7 last season "and saw no reason to change."
Maldonado shuns superstition, #BO77AS goes viral
While Raikkonen picked what's often considered a lucky number, his replacement at Lotus decided to flaunt one of F1's common superstitions: Pastor Maldonado requested the number 13, the only "unlucky" number that teams traditionally skipped in the previous, linear system.
Adrian Sutil joked in an interview with Sky Sports News that he had picked the highest-number available, 99, because "in my life, it's only the maximum!"
Williams' Valtteri Bottas also chose twin digits, deciding to play on the pairs of the letter t present in both his names. From now on, the already popular "#BOTTAS" hash-tag on Twitter - an inside joke among F1 fans' referring to a rather bombastic old Autosport magazine front page - can be combined with the Finn's 77 to make VAL77ERI BO77AS.
Future Formula One drivers with a love of football could be disappointed, considering that every number up to 11 has been reserved - save for the number 2. In a two-driver-team sport where second is popularly dubbed "the first loser," it's hardly a shock that nobody felt compelled to be number 2.