German coach Marco Sturm and his men had gone into their fourth group stage game on Wednesday hoping to earn three points by beating the Slovaks, who are just two places above them in the International Ice Hockey Federation's (IIHF) men's rankings in regulation time.
After going down 2-0 in the second period, Sturm was satisfied with the way his players fought back to take the game into overtime and win it in the shootout.
"This probably wasn't our best game today, but after falling behind the lads showed character. We are pleased to have won this game and we are glad to have collected the two points," he said. "Winning a difficult game after a start like that isn't so easy."
Germany collected two points for winning the game in the shootout. Those points could prove to be decisive in their quest to finish in the top four in Group A and earn a berth in the quarterfinals.
But their task may now be more difficult. Arizona Coyotes' winger Tobias Rieder, who suffered an injury in the game against Russia, has been ruled out for the rest of the tournament. To make matters worse, Patrick Hager was handed a two-game suspension for slew-footing a player in that same game, meaning he won't be available until Germany's penultimate group stage game against Italy on Saturday.
Help from across the pond
Sturm can look forward to some much-needed help from the National Hockey League after Leon Draisaitl's (pictured above, right) Edmonton Oilers lost Game 7 of their Western Conference semifinal series 2-1 to the Anaheim Ducks on Wednesday. This means Germany's brightest young star, who told Sturm prior to the tournament that he wanted to come to the world championship if the Oilers were eliminated, could join the national team in time for the last and possibly decisive group game against Latvia next Tuesday.
Edmonton's third-overall draft pick in 2014, Draisaitl, 21, has had something of a breakout regular season in the NHL. He followed this up with had a strong playoff performance, picking up 16 points in 13 games.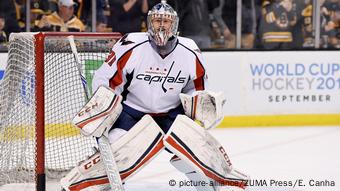 Philipp Grubauer could also join Germany in Cologne
Washington Capitals goalie Philipp Grubauer could be another potential addition, one that may turn out to be important for the German team. First choice netminder Thomas Greiss pulled himself from the game after Slovakia scored their first goal due to an "upper body injury".
Sturm told reporters afterwards that Greiss hadn't been 100 percent in practice and that he had aggravated the injury during the first nine minutes and 23 seconds of the first period. It's not clear how serious the injury is, but if it is something serious, the addition of the Capitals netminder could be key.
Grubauer, 25, has also said that he was willing to join the national team should the Caps be eliminated from the Stanley Cup playoffs. That also happened on Wednesday night as they fell 2-0 to the Pittsburgh Penguins in Game 7 of their Eastern Conference semifinal series.
Meanwhile, preparations begin this Thursday for Germany's next group-stage game, against Denmark on Friday, followed by the game against Italy 24 hours later.