The original "Night Tripper," Dr. John, died of a heart attack "towards the break of dawn" on Thursday morning, according to a tweet released by his family.
The legendary singer and pianist was one of New Orleans' most famous sons, taking up the mantle of such keyboard greats as Jelly Roll Morton, Professor Longhair, Huey "Piano" Smith, and Fats Domino.
Over the course of his almost 60-year career, he released more than 30 solo albums, contributed to some 45 more, won six Grammys and was inducted into the Rock and Roll Hall of Fame in 2011.
Read more: New Orleans R&B legend Allen Toussaint dies at age 77
Hanging out in bars as a schoolboy
Born Malcolm John Rebennack, Jr., in New Orleans, Louisiana, on November 20, 1941, he began playing music as a child. His first introductions came from an aunt who taught him to play guitar, and his father, who sold records at his appliance store and would take him to nightclubs when he was working on sound systems.
By his own account, he began hanging around clubs while still in grade school. By the time he was a teen, he was himself performing in some of New Orleans' roughest bars.
Growing up in the city, he was exposed to its rich musical heritage early on and quickly took in its rhythm and blues, gospel, jazz, boogie, funk, and Mardi Gras spirit.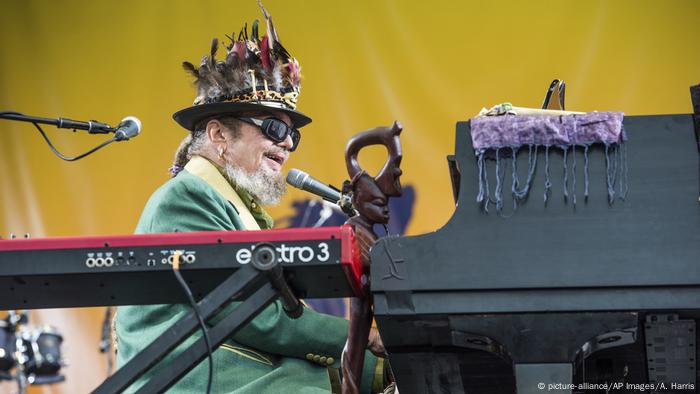 Rebennack's Dr. John persona was based on a 19th century New Orleans medicine man steeped in hoodoo folk culture
Prison blues
Though he began his career as a guitarist, a bar fight in Jacksonville, Florida, in 1961 left him unable to play the instrument after a gunshot almost took off his ring finger.
He was run out of New Orleans by law and order district attorney Jim Garrison in the early 1960s and a few years later, in 1965, he was sent to federal prison in Texas on drug charges.
Rebennack wrote extensively of his life, not only as a musician, but also as a drug addict, petty criminal and pimp, in his 1994 autobiography, "Under a Hoodoo Moon."
The birth of Dr. John
Upon release from prison, Rebennack resettled in Los Angeles, where he created his new persona, Dr. John, The Night Tripper, a wild shaman-like character decked out in furs, feathers and beads. The persona was based on a 19th century New Orleans medicine man and played to his love of the lore of his Cajun roots.
After working as a sought-after studio musician in LA, he released his first solo album, "Gris-Gris" in 1968. Although the strange and haunting mix of blues and psychedelic rock was not a commercial success, its otherworldly sound quickly made it a cult favorite.
Dr. John's second album, "Gumbo," released in 1972, saw a shift to more traditional New Orleans fare, featuring standards such as "Iko Iko," "Blow Wind Blow," and "Let the Good Times Roll." In 1973, Dr. John scored his only is Top 10 hit with the song, "Right Place, Wrong Time."
After moving to New York in the late 1970s, Dr. John eventually returned to his native New Orleans in 2009.
'Music is the one thing that keeps me alive and happy'
Over the course of his career, Dr. John was also a highly respected producer, songwriter, and session musician. He played with a diverse array of musicians such as Canned Heat, The Grateful Dead, The Band, The Rolling Stones, Ringo Starr, Van Morrison and many others.
In a 2011 interview with the New Orleans Times-Picayune newspaper, Dr. John spoke of the powerful influence of music, "Music is the one thing that keeps me alive and happy. If it don't be for music, I think I would have threw in the towel."
Malcolm John Rebennack, Jr., died in New Orleans on June 6, aged 77.
js/rt (AP, Reuters)
Each evening at 1830 UTC, DW's editors send out a selection of the day's hard news and quality feature journalism. You can sign up to receive it directly here.