The top court in the Democratic Republic of the Congo (DRC) on Monday excluded former vice president and opposition leader Jean-Pierre Bemba from standing for election because of a witness tampering conviction at the International Criminal Court (ICC).
In a judgement broadcast on national television, the court ruled that the election commission had rightly invalidated Bemba's candidacy last month, saying that witness tampering is a form of corruption as stipulated in electoral law.
Read more: Opinion: No more Kabila in Congo, but challenges remain
Bemba, 55, returned to DRC after being acquitted of war crime charges by the ICC, a conviction for which he spent nearly a decade behind bars. The ICC had sentenced him to 18 years in prison in 2008 for murders and rapes committed by his militia in neighboring Central African Republic in the early 2000s.
But Bemba, the leader of the Movement for the Liberation of Congo (MLC), awaits an ICC sentencing hearing in two weeks for bribing witnesses during his war crimes trial, a crime he was convicted of in 2016. He was originally handed a one-year prison sentence and slapped with a €300,000 ($350,000) fine.
The MLC politician, who was one of four vice presidents under DRC's peace agreement in 2003, was tipped as one of the main candidates to replace outgoing President Joseph Kabila. Bemba lost to Kabila in the 2006 presidential election, which sparked deadly clashes in the nation's capital of Kinshasa.
In an opinion poll conducted by the Congo Research Group of New York University, Bemba placed third behind Felix Tshisekedi of the Union for Democracy and Social Progress and Moise Katumbi, the governor of the Katanga Province.
Read more: Katumbi's bid to return comes days after presidential hopeful Bemba flies home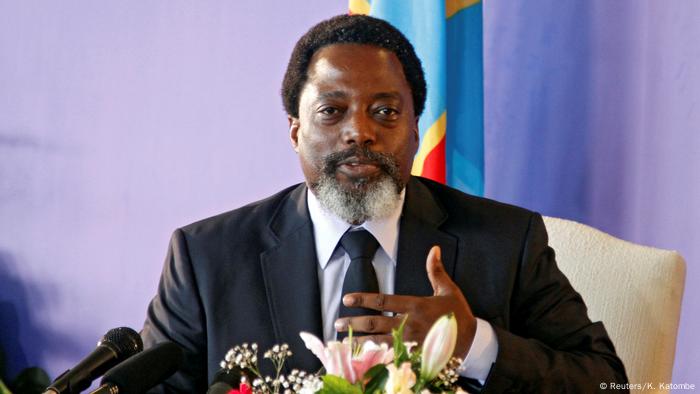 DRC President Joseph Kabila is stepping down after serving two six-year terms
Ex-prime minister also barred
In addition to Bemba, the DRC's top court also excluded Kabila's former prime minister, Adolphe Muzito, from running in the election.
The court ruled that Muzito, who served as prime minister from 2008-2012, was ineligible on technical grounds related to a dispute with his Unified Lumumbist Party.
The December 23 election is set to become the DRC's first constitutional transition of power. Kabila, 47, has been in power since his father was assassinated in 2001. He was supposed to step down after his second elected term ended in 2016, but he has continually delayed elections, taking advantage of a loophole in DRC's constitution that has enabled him to stay in power until a successor is elected.
The DRC president announced last month that he would not seek a third term, respecting the nation's constitutional term limits. He has thrown his support behind Emmanuel Ramazani Shadary's candidacy. But Kabila's opponents have accused him of trying to rig the vote to ensure Ramazani, a member of Kabila's People's Party for Reconstruction and Democracy, succeeds him as president.
dv/aw (AFP, Reuters)
Each evening at 1830 UTC, DW's editors send out a selection of the day's hard news and quality feature journalism. You can sign up to receive it directly here.