Suicide bombers detonated their explosives near the Sayyid Mohammed shrine in Balad, clearing the way for IS gunmen to enter the site and fire upon worshippers, Iraqi security sources said Friday.
The Shiite shrine, about 93 kilometers (58 miles) north of the Iraqi capital, also came under rocket fire during the overnight attack.
More than 50 people were wounded in the attack, which came as people gathered to celebrate the Eid al-Fitr festival that marks the end of Ramadan.
Militant group IS claimed responsibility for the attack in a statement, saying it was carried out by three suicide bombers wearing explosive belts. The attack is likely to further shake sectarian tensions between Shiites and Sunnis in the country.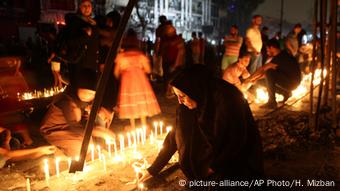 A massive truck bomb claimed by IS on Sunday killed 292 people in a Shiite shopping area in central Baghdad. The attack was the deadliest single bombing to hit Iraq since the US-led invasion of the country in 2003.
In response to repeated security lapses, Iraqi Prime Minister Haider al-Abadi sacked three security chiefs in Baghdad on Friday. The premier fired the commander of Baghdad Operations, as well as two top security and intelligence officials.
The security schuffle comes after the country's interior minister resigned earlier this week following the Baghdad blast. Abadi's government has come under sweeping public criticism for repeated security failures, corruption and incompetence.
The Sunni hardline group has been losing ground to Iraqi forces in recent months, and experts warn their losses on the battlefield could mean a spike in attacks targeting civilians.
nm/jm (Reuters, AP, AFP)