Alexander, a client of Frankfurt lawyer Reinhard Marx, is severely traumatized, Marx says.
The 24-year-old Roma is seeking asylum after fleeing Serbia. There, he says, he was repeatedly persecuted, abused and threatened. Not only did Serbian police not protect him, he says, they actively passed his information to the perpetrators.
In Germany, however, Alexander's application was rejected as "manifestly unfounded."
Lawyer Reinhard Marx immediately filed an emergency appeal against Alexander's obligatory departure.
Safe countries of origin
In the first eight months of 2014, more than 19,000 applications from Serbia, Macedonia and Bosnia-Herzegovina were reviewed in Germany. Just fifty-five were granted asylum. And in future, things will become even more difficult for asylum seekers from the Western Balkans. Those three countries are to be labeled as "safe countries of origin," placing them on par with other EU member states. As a result, asylum seekers from Serbia, Macedonia and Bosnia-Herzegovina will be de facto denied the right to asylum in Germany.
That comes on top of the fact, says Alexander's lawyer, that Roma from the western Balkan countries are already roundly rejected - mostly on the basis of "manifestly unfounded" claims and without any detailed examination of their case.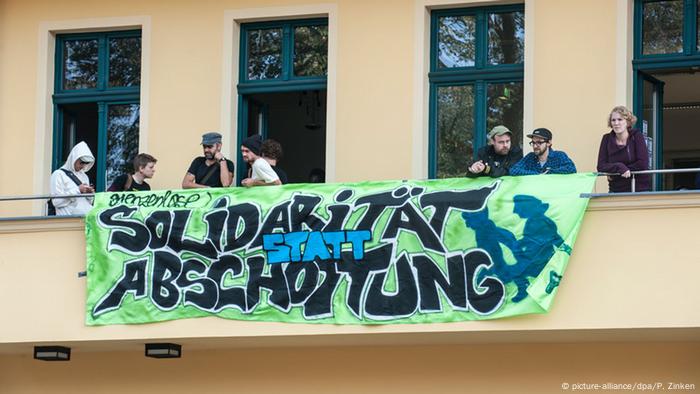 Solidarity instead of separation, reads the sign of the protesters occupying Green Party headquarters
Marx tells of reports heard at the government's migration and refugee agency, BAMF, where refugees told of racist assaults and attempted rape.
"In the rationale of the rejection, nothing about [those stories] was duly received," he told DW. In other words, the reasons for seeking asylum were not carefully examined. "That, for me, is no longer constitutional."
Under pressure
The refugee protection organization Pro Asyl has issued reports on the three countries. Massive discrimination against the Roma minority in all areas of life - social services, housing, health and education - represents a threat to Roma livelihoods, says Bernd Mesovic, who works at the organization. That is grounds for asylum under international refugee law. Homosexuals as well as journalists are also often victims of human rights violations.
As for the gradual decline of successful asylum applications, Mesovic argues that the quota has been dropping ever since former Interior Minister Hans-Peter Friedrich of the Christian Democratic Union declared there to be no more persecution there.
Today, Cem Özdemir, who chairs the Green Party in Germany, places the blame on a different party. "The performance of the [anti-euro] AfD in state elections is perhaps placing the CDU and CSU under pressure," he told "Die Welt" newspaper.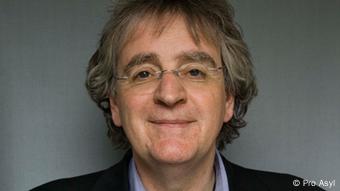 Bernd Mesovic hopes German authorities will review asylum cases in far more detail
The Green Party is the most active in Germany in combating the proposed changes to asylum law. Prior to a parliamentary vote in the Bundesrat, 30 activists "against asylum tightening" occupied the Green Party's headquarters in Berlin.
Pressure is also building within the party's own ranks: A declaration that "The right to asylum applies without compromise" has been signed by 1,800 supporters, among them parliamentarians at the state, federal and EU level - including former Green Party chairwoman Claudia Roth.
Amnesty International and Pro Asyl have also joined the chorus with an appeal for "No lazy compromises in asylum law." Their fear, however, is that Greens, who govern in coalition in seven German states and whose votes the legislation is contingent upon, will ultimately agree to the new asylum law in exchange for improved social welfare for asylum seekers generally.