In the middle of the horror and chaos of Monday's Boston Marathon bombing, it's not surprising if people quickly jumped to conclusions as to who was responsible. One Saudi Arabian was spotted running away from the scene, together with many others. The difference was that he was stopped and handed over to police, who questioned him and searched his apartment before releasing him without charge.
The incident, which was quickly reported on television, perhaps confirmed the question in many Americans' minds - was the bombing the work of Islamist terrorists?
Domestic suspicions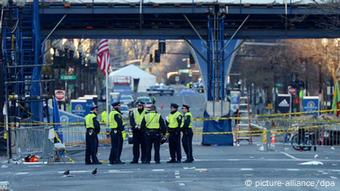 No one has yet claimed responsibility for the bombing
Early indications suggest not - for one thing, almost a day after the explosions, no one has yet claimed responsibility for the attack. "If anything it points to the possibility that it's domestic rather than international," said Paul Rogers, global security consultant at the UK think tank Oxford Research Group. "It might be a case similar to the bombing at Centennial Park at the Atlanta Olympics back in 1996."
The New York Times also noted that the explosive devices used in Monday's attack were similar in size to the bomb used in Atlanta, which killed two people and injured more than 100.
Adam Montella, a professional homeland security consultant based in Virginia, agreed that it was unlikely that a foreign terrorist group was involved. "All the indicators are there and my gut tells me that as well," he told DW. "Historically speaking the bad guys - or the foreign groups - are very quick to claim responsibility, and they wouldn't take responsibility for something that wasn't theirs. They have a PR machine just like any other company."
On the other hand lone bombers, like Ted Kaczynski, also known as the Unabomber, tend not to claim responsibility. "They generally end up getting caught though, and hopefully that will be the case here," said Montella. "It was a major sports event. There's a lot of camera footage, and closed circuit television from neighboring buildings."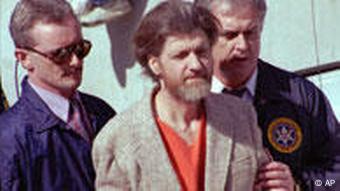 Ted Kaczynski, the Unabomber, was arrested in 1996 after a nationwide bombing campaign
Many motives
But if it's not al Qaeda, who would be behind such an attack? "There are tons of so-called domestic terrorist groups in the United States," said Montella. "Everything from religious-based organizations to all kinds of political and sociological-based organizations. There used to be a strong focus on these guys - people with almost cult-like followings - but recently we've focused our attention more toward international terrorism - and forgotten about the home-grown idiots."
"And there are so many things that could have been a trigger," he added. "Yesterday was Tax Day in the United States, and Boston was obviously the scene of the Boston Tea Party. It was also Patriots Day. Also the start of the Revolutionary War was near Boston, so there's a lot of different aspects you could try and draw parallels to."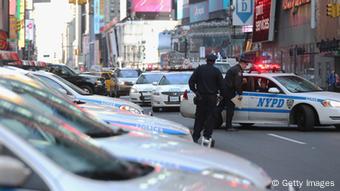 Security was immediately ramped up in New York as part of a coordinated response
Post-9/11 response
Although both President Obama and the authorities initially hesitated to use the term Terrorism, there was no doubt that the US authorities reacted as if America was under attack. The Federal Aviation Administration almost immediately created a no-fly zone over the site of the explosions, and briefly ordered flights bound for Boston's Logan Airport to be held on the ground at airports around the US. Meanwhile, critical response teams were deployed around New York City and officials stepped up security at hotels and other prominent locations.
"I think that's pretty standard, particularly in major cities," said Rogers. "There's been a huge amount of coordinated planning since 9/11 as to how cities handle events in another part of the United States. You take immediate precautions, even if you have no evidence whatsoever of anything else likely to happen."
"The posture of readiness has improved across the nation and across the globe," said Montella. " In the US we've developed these 'fusion centers' where not just law enforcement but also fire and public health authorities are all sharing data on a daily basis."