Women and children in bright red, blue, and yellow Indian dress gathered to talk near a pond. Buffaloes and donkey carts plastered with mud and manure surround it.
Like many places in India, Mudali - a village in the country's north - has no sewage system. Here, this group of women goes house to house every day to pick up human waste by hand.
The work is known as manual scavenging. While officially banned in 1993, thousands of people still do it in places that lack plumbing. And by doing a job no one wants, the women are looked down upon by the rest of Indian society.
'Still in the same hell'
In her mid-30s, Suneeta - pictured above - is among the women here. She's been cleaning excrement out of latrines since she married 20 years ago. While she knows life around her is improving, she said her life has not changed much over the last two decades.
"There's so much improvement and progress in this world," she said. "But for us, nothing has changed. We're still in the same hell."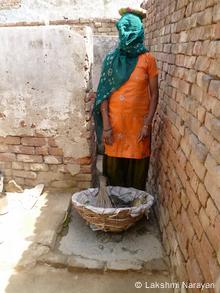 Guddi wraps her face while working to block out the stench
About half of the nearly 1 billion people in India do not have access to a toilet, and some 700,000 toilets across the country are not connected to a sewage system. In these so-called dry latrines, someone has to manually remove the excrement.
Balancing a basket carefully on her head and carrying a small shovel and a broom, Guddi is another one of the women who make a living cleaning the latrines of the simple, one-story houses in the area.
She wraps a piece of cloth around her face and throws cow manure ash over the human waste to try to neutralize the strong odor. She'll take the waste to the village landfill in exchange for a monthly salary of about 50 rupees (0.70 euros, $0.93) per house, or a food stipend.
"I pick it up from here and throw it away," she said. "They give us 10 kilos of wheat every six months, or some money."
Left without options
Shantha, another woman who cleans latrines in Mudali, said she does the work to earn money to buy food for her children.
"Whenever we do this, we think about our children at home," she said. "If we do this, then we can at least feed our children every day."
The women all said they're ready to leave their profession, but added that they cannot find other work.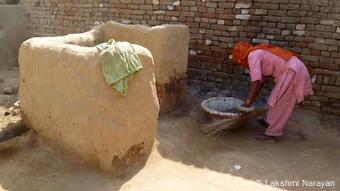 Manual scavenger woman prepares to clean a dry latrine in a poor farmer's house
"If we could somehow get a job or start some business, it'll help us break free," Suneeta said.
A government-backed program makes 5,000-rupee loans available to manual scavengers looking to change professions. But securing this funding is extremely difficult, according to Bezawada Wilson, an activist who travels across India to end the practice of manual scavenging and help women find other work.
"This is the failure of the government, not the failure of the women," said Wilson, whose parents were both scavengers. "How can somebody can ask as us to clean somebody else's excrement? And how we can accept that?"
New law proposed
Indian Social Justice Minister Mukul Wasnik admitted to reporters this April that implementation of the 1993 ban on manual scavenging, which also banned the construction of dry latrines, has been weak.
"The implementation of the law has been weak and not a single person has been booked under it," he said.
Wasnik added that the Indian Parliament would consider a bill to prohibit all forms of manual scavenging, including the cleaning of septic and sewer systems that were not covered by the 1993 law, during its next session, which begins on August 1.
Author: Lakshmi Narayan, Mudali, India / sms
Editor: Anke Rasper