Dirk Nowitzki led his Dallas Mavericks late on Tuesday, local time, with 21 points in a 95-83 win over the Utah Jazz, showcasing the clinical shooting that has become the trademark of his impressive career.
Nowitzki was off target just twice all night, scoring with nine of his 11 shots and twice in three attempts from three-point territory.
This tally took Nowitzki's career total since joining the NBA to 26,714 points, tenth-highest of anybody to play in the US basketball division. Nowitzki surpassed Oscar Robertson's career tally on the night to join the top 10.
"It's absolutely surreal," Nowitzki said after the game. "To overtake 'Big O' [Robertson] and to know that only nine players in the history of this league have scored better than me - that's really crazy, especially considering where I come from: a one-horse town near Würzburg in Germany."
Nowitzki's on-court reaction to the decisive basket, a mid-range jump shot early in the fourth quarter, was muted. The German giant trotted back to his defensive end as usual, glanced at the scoreboard, and exchanged a brief "low-five" with teammate DeJuan Blair.
The win, Dallas' sixth in a row away from home, could help the side reach this season's playoff competition for the 13th year in succession.
'Swish 41' chasing Olajuwon
Nowitzki, the ninth pick in the 1998 rookie draft, has set several milestones in his career with the Mavericks. He was the first European to win the league's coveted MVP [Most Valuable Player] award in 2007, won the NBA championship with the Mavericks in 2011, and has been selected for the NBA's annual All Star game on 12 occasions.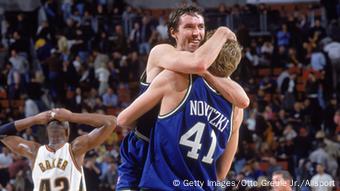 Nowitzki's old running mate Nash had a night to remember too
The 35-year-old's contract is up at the end of the season, but Nowitzki has said that he hopes to stay with the only NBA team he has ever represented.
The one active player currently ahead of him in the scoring charts is explosive shooting guard Kobe Bryant - roughly 5,000 points up the road in fourth place.
Nowitzki could realistically hope to claim ninth place in the charts from center Hakeem Olajuwon before the end of the season; he needs 233 more points to get there.
Should Nowitzki continue his career into the 2014/15 season, without a major drop-off in performance, sixth or seventh position would be in reach.
Nowitzki's old teammate and friend, Canadian point guard Steve Nash, also broke major ground on Tuesday. The wily playmaker now with the Los Angeles Lakers overtook Mark Jackson to claim third position in the league's all-time "assist" chart.
Nash, a Maverick during the early years of Nowitzki's career, has set up 10,335 baskets in his career.
msh/ipj (AFP, dpa, SID)