The sun is shining at the conference venue but there are no solar panels to be found anywhere. What can be found, however, are portable air-conditioning units in every room and they are powered by diesel generators. Considering the heat outside that is pleasant for the participants but it also shows that electricity is scarce in Rwanda and power outages are a fact of life. In that context it is little consolation that the conference organizers emphasize that they used the generators as little as possible.
Power cut
During the visit to a coffee roaster in Kigali, the power went out. "Power cut," the manager said with a shrug. Within seconds, the generators kick in here as well. And the energy supply in Rwanda is actually good by comparison. In other African countries, the power outages are much more frequent. Around 50 percent of all Africans do not have access to electricity, experts at the World Economic Forum say.
"Electricity is like blood in your body. That shows the importance of energy in Africa," the president of the African Development Bank (AfDB), Akinwumi Adesina, says fervently.
Emotional energy
That energy is a highly emotional issue for Africa also became apparent during a debate held by DW at the World Economic Forum in Kigali. Moderated by DW's Africa correspondent Edith Kimani, the topic was "Towards a new energy future for Africa."
"It is not acceptable this day and age that in Africa you have over 600 million people without access to energy," said Erastus Mwencha, deputy chair of the African Union Commission right at the beginning of the debate. "That means for Africa: for every three people, two don't own devices. In the case of Nigeria, it is producing petroleum but importing consumption."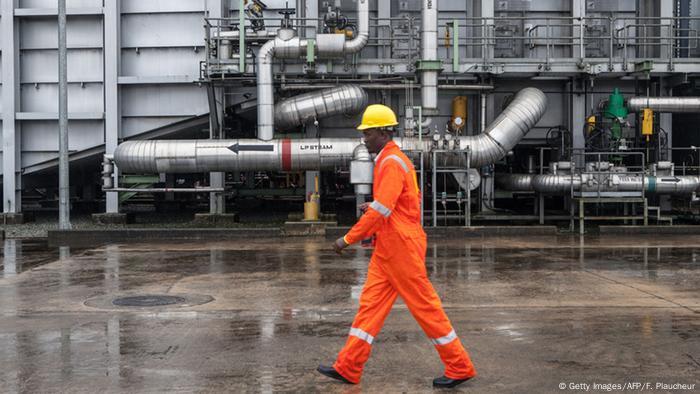 While crude oil production is still important, Africa's future lies in renewables
Oil and the sun
Jubril Adewale Tinubu, CEO of Oando, one of the largest independent Nigerian energy companies, points out that the cause isn't a lack of resources. He says Nigeria still has oil for 100 years, natural gas for 600 years and coal for 400 years. Nonetheless, developing renewable energy swiftly is urgently necessary.
"We don't have a choice. We do need to take conventional sources and add to them renewable ones and we do need to have a policy that seeks to drive renewable energy and enable to compensate for the shortfalls of other sources like coal or gas or oil sources," Tinubu says.
South Africa is betting on solar energy
But expanding renewable energy has to happen swiftly. South Africa has brought 2.5 gigawatt of renewable energy online within just three and a half years. A positive example, and it doesn't always have to be large-scale projects like gigantic solar fields. Modern technology also makes smaller local grids possible. They can be powered by the sun, for example, and supply electricity to a few hundred households.
"The future of smart energy is very bright," says Jasandra Nyker, CEO of BioTherm Energy. "There is this great potential of smart energy on the African continent. Given the growth rates in Africa, given that a large portion of people will migrate to large cities in the next 20 years, there is an opportunity for on and off-grid technology."
The South African entrepreneur specializes in renewable energy. The market is growing and the prices are dropping. Competition has grown. Today, solar power is around 80 percent cheaper than it was just a few years ago. That is good news for consumers but companies only invest when it pays off, says Erastus Mwencha.
Small-scale solutions are needed
Perhaps the solution is smaller projects that will bring electricity to rural regions, too. After all, it doesn't have to be gigantic solar fields or wind parks.
"At the home-system level, we have a lot of the technologies, now we need to scale them," says Jaqueline Novogratz, CEO of Acumen, an NGO that works to expand the energy supply in Africa. "Think about the fact that it takes most governments about one thousand dollars to connect a rural household to the grid and it will take a number of years to expand that grid. On the other hand a five, 10- mile-system is more like 150 dollars (132 euros). That can be financed by the household itself over a one to two-year period. You completely change the economics of what it will take to reach the world's poor."
More energy for Africa also means more prosperity for the people. That's why the consensus at the World Economic Forum in Kigali is that there is no time to waste.