Deutsche Telekom is planning to significantly reduce the size of its upper management staff by cutting up to 1,600 jobs at its 4,000-person headquarters in Bonn.
A company spokesman confirmed the layoffs, saying much of the workforce reduction would take place through early retirement and buyout arrangements, as well as a freeze on open positions. He added that the cuts - expected to progress over three years - are not necessarily limited to upper management.
The German newspaper Handelsblatt reported Monday that managers in divisions including human resources and finance would likely be affected, adding that high-level severance packages were expected to cost between 200,000 and 250,000 euros per person.
Save for service
The cuts are part of a Deutsche Telekom austerity program called "Save for Service," which was introduced in 2007 and has thus far saved the company 8.3 billion euros ($11.9 billion), according to media reports. The program is slated to continue through 2015.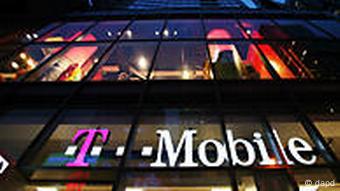 The company wants to sell its T-Mobile operations in the United States
Deutsche Telekom is looking to become leaner as it moves closer to completing the sale of its troubled T-Mobile USA cell phone unit, which is currently headquartered in Bonn, to AT&T. The $39 billion deal must still pass antitrust hurdles, and will see Telekom's turnover fall by one quarter if it succeeds.
The sale of T-Mobile USA would remove the last vestige of Deutsche Telekom's former "global player" strategy.
Going against a generally positive market, Deutsche Telekom shares dipped 1.25 percent to 10.705 euros at times on Monday.
Author: Gerhard Schneibel (dpa, Reuters)
Editor: Sam Edmonds